It's a decent week for Nintendo fans, with a pretty big 3DS game in Yoshi's Woolly World and some TG16 Virtual Console titles.
It's a Wooly Wooly World
So there's really just the one big new title this week. It is a pretty big game though, with the release of the formerly Wii U exclusive, Yoshi's Wooly World. If you haven't played it and you're a Super Mario fan, then chances are you'll dig it.
Plus, the wool-flavored platforming has more on the 3DS than the previous edition. Nintendo says that, aside from Poochy, the new version has new stages and "exclusive features". So there's some incentive to re-play the game there. Here's our review of its big bro, if you're on the fence.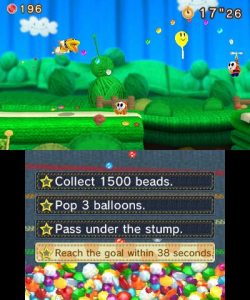 Other than that, we've also got a pair of Turbografx-16 releases on the VC for the Wii U. Both Gradius and Bomberman '94 are out now. Personally, I wish they were on the 3DS, but whatever. As I remember it, both are killer versions of the two series'.
Now, to be fair, there is another big release this week, but it's not on Nintendo hardware. I'm talking of course about Fire Emblem Heroes on mobile platforms. I don't know a ton about this game, but we did run a profile on it a short time ago. And quite frankly, it's more Nintendo on your phone, so it's going to more than likely be big.
Scroll down for the full look at what's new
Nintendo Mobile

Fire Emblem Heroes – Nintendo's hit strategy-RPG Fire Emblem series is now reimagined for smart devices. Fight battles customized for touch screens and on-the-go gameplay. Summon characters from across the Fire Emblem universe. Develop your Heroes' skills and take them to new heights. This is your adventure – a Fire Emblem that's like nothing you've seen before! Available today on App Store and Google Play, this application is free to download and offers some optional in-app purchases.

Nintendo eShop on Nintendo 3DS

Poochy & Yoshi's Woolly World – Discover a handicraft world bursting at the seams with creativity, as you guide Yarn Yoshi or Yarn Poochy through clever side-scrolling stages. Unravel secrets, toss yarn to weave platforms, and power up with woolly transformations. All stages from the Wii U version are joined by new ones starring Poochy and more Nintendo 3DS exclusive features. A free demo for Poochy & Yoshi's Woolly World is also available to download in Nintendo eShop.

Virtual Console on Wii U

Gradius – To save the planet in this TurboGrafx-16 space shooter, you must deploy the hyperspace fighter Vic Viper to fight the Bacterion invasion. Pilot the Vic Viper through seven stages, shooting and dodging through deadly obstacles, while using various power-ups, including missiles, lasers, options and shields. The Vic Viper's target is the enemy fortress, Xaerous. The only way to end the war is to plunge deep through the enemy forces and destroy its very core.
BOMBERMAN '94 – The explosively fun BOMBERMAN gameplay is blowing up on Wii U! Place bombs, gather power-ups and ride different ROOI to defeat enemies and conquer stages in this classic action-packed TurboGrafx-16 game. You can even participate in tag-team matches, ensuring that you'll have a blast!
Nintendo eShop sales:
Nintendo eShop on Wii U and Nintendo 3DS
Activities:
Get ready for Valentine's Day with My Nintendo – Valentine's Day is coming up! Reward yourself or a loved one with discount rewards on digital games featuring the characters you love, as well as multiplayer games you can play together. Go to https://my.nintendo.com/ to redeem points today.
Also new this week:
In addition to video games available at retail stores, Nintendo also offers a variety of content that people can download directly to their systems. Nintendo adds new games weekly to Nintendo eShop on the Wii U console, the Nintendo 3DS family of systems and the Wii™ Shop Channel for the Wii console.
Nintendo eShop is a cash-based service that features a wide variety of content, including new and classic games, applications and demos. Users can add money to their account balances by using a credit card or purchasing a Nintendo eShop Card at a retail store and entering the code from the card. All funds from one card must be loaded in Nintendo eShop on either Wii U or the Nintendo 3DS family of systems, but can be used in either Nintendo eShop if the systems are linked to a single Nintendo Network account.
The Wii Shop Channel offers games and applications and uses Wii Points™, which can be purchased via the Wii Shop Channel. The Nintendo DSi™ Shop offers games and applications and uses Nintendo DSi Points™. Click here for details about the recent Nintendo DSi Shop service change.
Remember that Wii U, Wii, New Nintendo 3DS, New Nintendo 3DS XL, Nintendo 3DS, Nintendo 3DS XL, Nintendo 2DS and Nintendo DSi feature parental controls that let adults manage some of the content their children can access. Nintendo 3DS players who register a Nintendo Network ID gain access to free-to-start games and free game demos from Nintendo eShop, and also get the latest news and information direct from Nintendo. For more information about this and other features, visit http://www.nintendo.com/wiiu or http://www.nintendo.com/3ds .