That Merc with the Mouth himself, Deadpool is now a part of Mezco Toyz' One:12 Collection.
One:12 Deadpool
The hottest comic character seemingly for the last few years, the popularity of Marvel's merry mutate merc just doesn't seem to be slowing down. And now he's getting a figure in Mezco's One:12 Collection.
I don't remember seeing this one on display at Toy Fair or either of the big Comic Con's last year, so it's news to me. What isn't news though, is the quality of Mezco's line that bears the One:12 banner. Frankly, it's awesome, with tons of articulation and cloth outfits that actually look right. Not many toy lines have gotten that right over the years.
And Deadpool here looks right in line with all that, styled after his classic Marvel Comics look. He comes with a pair of head sculpts too, so you can display him with his more emotive face, or his classic (more Liefeld-esque) visage.
Oh, and as you can see, you get yourself a Headpool too. That's nifty. Deadpool is set to ship some time in late Summer, from August through October. He's available for pre-order right now, right here.
Scroll down for the full details on him
The Deadpool One:12 Collective figure features:

•   Two (2) newly developed head portraits including::

– Classic head

– Squinting head

•  One:12 Collective body with  over 30 points of articulation

•  Hand painted authentic detailing

•  Over 16cm tall

•  Six (6) interchangeable hands including

– One (1) pair of fists (L & R)

– One (1) pair of gun and sword holding hands (L & R)

– One (1) grenade throwing hand (R)

–  One  shaka  / "hang loose" hand (L)

Costume:

•  Sculpted gloves on each hand

•  Vambrace on each forearm

• Harness with sheaths for katanas also holds 40mm style grenades

•  Belt with sculpted pouches and logo also holds hand grenades

• Thigh holsters for handguns

• Sculpted boots

Accessories:

•  One (1) Headpool disembodied head

•   One (1) machine gun with removable ammo clip and opening grenade chamber

•  Six (6) 40mm style grenades (fit in the grenade launcher chamber)

•  Two (2) hand guns with removable ammo clip

•  Four  (4) hand grenades

•  Two (2) katanas

•  One (1) One:12 Collective display base with logo

•  One (1) One:12 Collective adjustable display post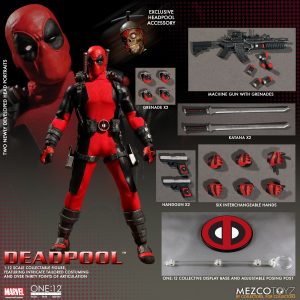 Each One:12 Collective Deadpool figure is packaged in a deluxe, collector friendly box, designed with collectors in mind there are no twist ties for easy in and out of package display.