If you're into Batman: The Animated Series and/or love DC Collectibles' line of excellent toys based on the show, then you're going to want to see this.
Five rogues and a cop
So, this is a massive set for .anyone who collects this line. I mean, it's a beast. Not only do you get five figures, but you get five new figures. Although some of these characters have been seen before in past waves from DC Collectibles, they've never been seen in these forms.
All of the villains in the set were released before, but in their New Batman Adventures looks. And while those were cool and all, there's nothing like the originals. Mr. Freeze is a personal favorite in particular, and man does he look killer here.
Also worth talking about is that this is the first time that Rene Montoya is appearing in any form. A mainstay on the show, Detective Bullock's partner is available here in her standard GCPD uniform.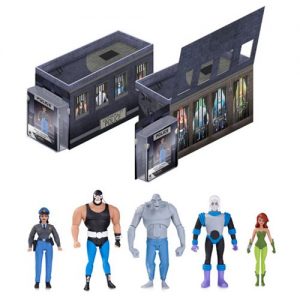 There's one more cool little thing to mention too- this bad boy lights up. It's a little fuzzy as to what illuminates on the packaging, but I'm guessing it's the cells. In any event, that's a fantastic little bonus.
As you might imagine though, this ain't cheap. Though it could definitely be worse, considering you're getting five figures and the suped-up jail packaging. All together, the five pack will run you $149.99 USD when it arrives this coming September.
Wanna pre-order? Hit this link right here.