Well here's the New Year starting off right. Diamond Select has a bunch of cool stuff in stores from big names like Star Trek and Ghostbusters.
New year, new stuff
Who says that getting cool new stuff has to come to an end after the Holidays? Well, not DST that's for sure, as the company has a few choice new items in stores this week. Chief among those, is the new Roman Warbird, as seen in the original Star Trek TV show.
We don't get a super huge amount of stuff from classic Trek, so any time that we do is a treat. If you're a fan, then you'll want to check this bad boy out, 'cause it's pretty rad. Not my favorite version of the Warbird, as that'd be the TNG version, but there's something all together unique about the TOS model. It's decidedly retro in feel, but it has an 'alien' look that really works.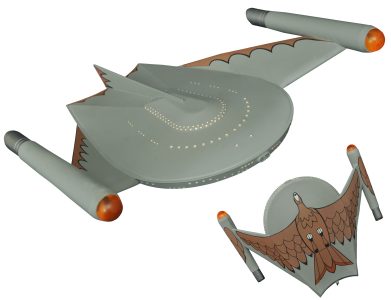 This week also brings a cool 60's Batman statue, a bust of Green Arrow from the Justice League animated series, and a new series of Ghostbusters figures. There are some excellent figures in that new set too, like everyone's favorite jerk- Walter Peck. All of the above should be available in stores right now.