A major factor in the (arguably) greatest age of X-Men comics, the Blue and Gold teams of mutants are returning to the Marvel U.
To me, my X-Men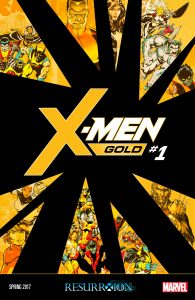 It's kind of hard for me not to get excited about this, so I apologize in advance. But this is kind of huge, so I'm not all that sorry for the gushing that's about to commence. Though I have to admit ahead of time, that a lot of what I'm thinking right now is purely speculative.
As usual, Marvel has delivered no hints as to what we can expect with this latest RessurXion tease except to call it "a beginning". So, you know, your mileage may vary on the end result.
For now though, there's no reason for fans to not get pumped. The X-Men Blue and Gold teams were the beginning of the legendary Jim Lee run after all. Kind of a big moment, and an era that means a lot to a whole mess of fans.
For me, I was a fan pretty much throughout the late 80s, which was when I started really reading comics. But when Marvel broke the team up into Blue and Gold starting in X-Men #1, I became a super-fan.
Everything was seemingly golden there for a while. The stories, and art (which was amazing) and the characters, were amazing. I do like some of what Marvel's been doing lately, don't get me wrong, but man would I like to see X-Men get back to basics.
And that includes the makeup of the team.
Returning heroes?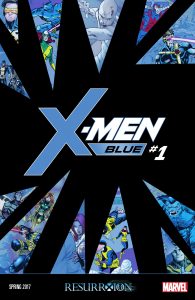 Of course, I'd like to see some familiar faces return to the X-Men. The original (sort of) team members have been hinted at with some of the solo books like Jean Grey and Iceman, so that's a good start. I want more though.
For a wish list, I'd like to see Gambit again, as well as Colossus, Psylocke (who just departed Magneto's squad), Rogue, Beast, and Storm. Then there's the big three of Cyclops, Professor X, and Wolverine. And I'm not talking about Old Man Logan. I know very well that some of the heroes on my wishlist are 'dead', but come on- this is Marvel. Characters dying really doesn't mean much in terms of seeing them re-appear.
Again though, I have to temper the old enthusiasm, since this is all conjecture. None of this might be in the cards, and the X-Men teams that we get might be radically different once again. Still, it's X-Men Blue and Gold and that definitely means something. We can all dream too, and since that's the case, I'd like nothing more than a return to the glory days of my favorite superhero team. Before they the roller-coaster of misfortune and in-fighting, and the Terrigen Mists that are killing them all off.
That's me though. What do you think? Would you like to see a 'back to basics' kind of revamp, or something all-new and all-different once again? And who'd be part of your dream lineup for the X-Men Blue and Gold squads?