Take charge of the lost & found toys as Brand in Toy Odyssey: The Lost And Found.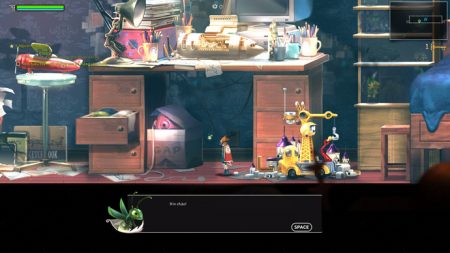 Toy Odyssey: The Lost And Found begins…
You are Brand, one of the many toys that reside in this house. It is up to you to save the other toys, as well as your owner Felix.  Save them from the dark forces that have taken over the house.
The title sounds both ambitious, as well as incredibly vague. You could find yourself with a real bomb, or a real diamond find.
Well let's get into it:
TToy Odyssey: The Lost And Found has procedurally-generated levels, and you will learn this quickly. Any time you die in battle, you will find yourself back at the base the following evening. A percentage of your inventory dropped, your map cleared. Add to that, the rooms have now repositioned themselves. This presents both excitement and frustration. Being procedural, sometimes the room placements are annoying, so it can be nice to re-shuffle the deck, so to speak.
Enormous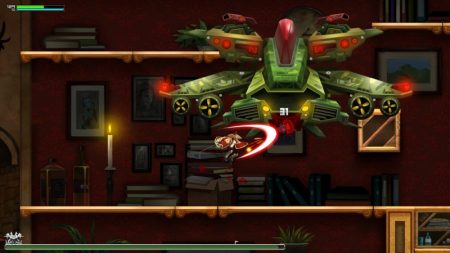 This toy-chest has a lot more than meets the eye. There are hundreds of weapons and combinations to choose from, as you scavenge parts. Run with a short reaching sword, and equip a kunai to hit that guy across the room. Add to that the gadgets available, to boost magnetism, or attack speed. The possibilities are incredible.
The gameplay begins rather unassumingly. You get the basis of where you are going, what you need to do. But only once you get into the game, do you really notice what is going on. You are a small character in a huge house, and the game reminds you of this. This platformer has you hopping from furniture up to shelves. Then from the shelves, you hop to the next shelf and open a ventilation shaft to travel to the next area.
You get to battle enemies ranging from rats to origami to the well-known little-green-men. Just because it is not a toy, does not mean it cannot attack you. Slime and spiders are the perfect scale to knock you out, if you aren't careful.
Be Wary Of The Reset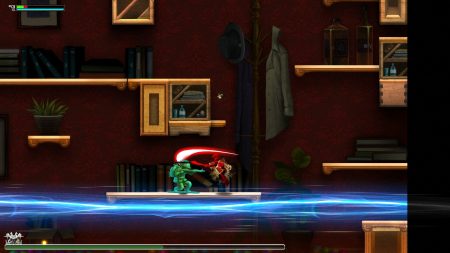 If this does not sound challenging enough, there's more. Add the fact that when you get knocked out or head back to base, there is a chance to have your base raided by your enemies. One of the tasks in this game is to recruit allies and build defenses. Nothing will frustrate you more, to be ready to increase your defenses, die, and have your main component nicked from you. We all know random drops can be frustrating. Now think about a random drop, in a random map, from a random enemy.  If they nicked your goods, you may be set back half an hour, or you may be set back three days.
Now all that to say, there are some sweet things that you can encounter as well. You rescue some toys that end up helping you collect materials and build your defenses. Those rats that attack you? They have their own shortcuts that you can use. Use the network of rats nests tunnels to jump from room to room. Save yourself some time getting around. Or to work around rooms you need to avoid for the moment.
The Allies
Allies in this game seem to serve a few purposes. First they are a destination. Then they are quest giver, much like many RPG games. Before you know it, you have half-a-dozen teammates at the base that have needs, and you are racking up inventories for them with every excursion. Some of their quests will end in you getting the missing ingredient in the latest weapon, so you can transition from a dagger to a great sword.
Toy Odyssey: The Lost And Found is a diamond in the rough, if you haven't picked it up yet. The soundtrack is engaging, the controls work great, with only a minimal learning curve. The joy of jumping around and taking on ninjas and tanks, and so much more. If you haven't yet, get yourself a copy and see if you can save Brand and his friends from certain darkness.
Toy Odyssey: The Lost And Found
Release Date: September 22nd, 2016
Publisher: Hiker Games
Developer: Hiker Games
Platforms: Xbox One, PS4, PC
Immersive Chest
When is the last time you got to be an amazing childrens toy? - 95%
No two days are the same. The options are unending - 87%
Sometimes gameplay can seem like a grind - 45%
As you aquire allies, you get more side quests. A completionist's dream - 88%
From space ships and soldiers to rats and beholders, there are all sorts of enemies to come across in Toy Odyssey: The Lost And Found. Take a run in Brand's shoes, and see if you can defend the toys!