Ashley Strode is a recent addition to the BPRD team. Watch as she takes on an exorcism and more in BPRD: Hell On Earth, The Exorcist.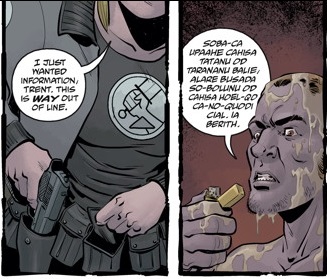 Written by Mike Mignola, Cameron Stewart & Chris Roberson
Illustrated by Mike Norton & Dave Stokes (thumbnails assistant)
Ashley Strode, The Exorcist?
We find Ashley in a worn-out house in what looks to be farm country. She is attempting to aid in the exorcism of a child. As you would imagine, things like these never go the way you want them to. This leads Ashley to investigate local families for what is really going on in this town.
Mignola & Co's Fluid Writing
While this novel jumps around a bit like many of the Hellboy-related titles, The Exorcist is a lot easier to follow. The story is contained in one book, consisting of three chapters. The number of main characters is limited. The dialogue flies from the page with ease, and before you know it, you've blown through the 126-page novel as easily as you would a typical 25-pager.
I've really enjoyed getting back into the comic books scene lately, and the titles put out by Mignola and friends have made that transition incredible. Whether you've missed a week, or picking up a new series, these are easy to take in, and before you know it, you're on the edge of your seat wondering what will happen next.
The Dark Plot
With a title like The Exorcist, you know things can't go well here. Dark corners, a mysterious family, strange markings. This sounds like something out of the BPRD daily journal.  Or is it? Who is that in the corner?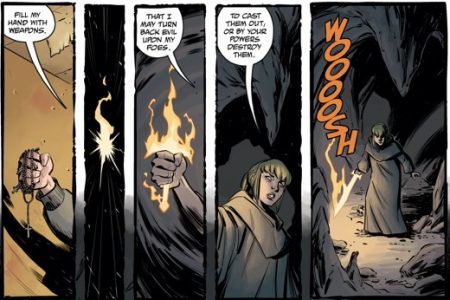 We don't want to go into too much detail of the plot here, but know this one is a needed ride for Ashley Strode to become a strong BPRD team member. Something dark and mysterious, requiring additional research as well as resources. Before you've reached the last page, you will see Strode grow immensely, come into her own, and gain some unexpected skills that will certainly aid in her future endeavors.
The Dark Art
The BPRD find their way into all sorts of dark, gritty and dangerous pockets of the world. From the ritual candles to piles of skulls, to the twisted and distorted faces available. Journey in Ashley's place as you see these pages come to life. Artifacts and even buildings from a distance have a particular feel. Norton and Stokes' imagination really bring this dark adventure through to the reader. Now I've seen a few that make me wonder what they were really going for, but there is no question here. While these books aren't striving for a realistic style, they by no means appear cartoony or childish. The choice of desaturated colors and stark contrasts make sure that the reader knows:  you are not in safe territory here. I for one, find this a wonderful thing when used appropriately.
"Durga, lend me strength…"
BPRD: Hell On Earth, The Exorcism is available September 21, 2016, for $19.99 US.
Demonic
Plot - 85%
Writing - 86%
Art - 85%
Watch Ashley Strode really come into her own against those who would challenge the BPRD in Hell On Earth, The Exorcism.