Space Hulk: Deathwing is almost here, and Streum On Studio is talking co-op play and pre-order bonuses.
An FPS with tactical "elements", the latest Space Hulk game is looking very nice indeed. Not to mention flat-out gorgeous in this new set of screenshots.
The game sets you against the usual Space Hulk foe of the Genestealer horde in a monstrous derelict ship. As you might imagine too, it's playable both solo and in co-op fashion. It wouldn't be a Space Hulk game if you didn't have a Terminator squad to fight alongside after all. And having them be your buddies (or some likeminded rando's) should be a good time.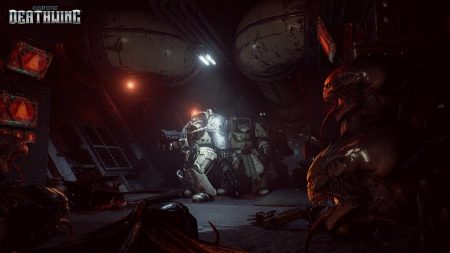 Co-op is one of the biggest points in this new release of info too, which also talks about classes. A total of 5 Space Marine types will be available to play as. The Librarian is the main character, who you've seen before, but the rest are just as cool.
As the Librarian, you can take up arms with the infamous Storm Bolter and harness psychic powers to unleash destruction on the enemy. The heavy weapon support can mow down Genestealers with his assault cannon, while the Apothecary is tasked with keeping the squad alive. The melee-oriented assault class can shred foes with brutal assault claws, or barge through the front line with shield and power mace. Finally, a tactician specialist can support the team with a passive buff as well as other abilities, which is useful for controlling the swarms of Genestealers.
Since this is Space Hulk too, you'll have to master teamwork if you want your team to survive. That's because there's a nearly endless tidal wave of alien scum flooding at you form all corners… pretty much non-stop. Yep, Space Hulk can get pretty intense.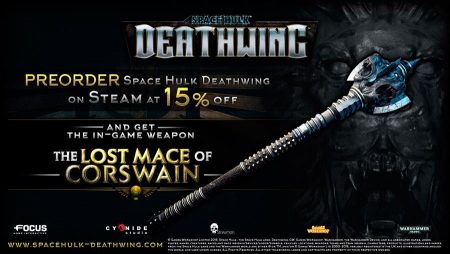 And with all this, also comes a pre-order slate of bonuses. The game is available now on Steam for 15% off what'll be the usual price tag. You don't just get the price cut though if you pony up ahead of time. You'll also get the Lost Mace of Corswain, which looks appropriately nasty. Good for smushing Genestealers and the like.
So there you have it. Page through the pics in the gallery below for a look at the game in action, and then head over to Steam if you do want to pre-order. Space Hulk: Deathwing hits the PC this November. Actually, while you're there, you might want to look at publisher Focus Home's entire catalog of PC games. They've got a bunch and they're pretty much all on sale this week.