If you're a shooter fan, then you're going to want to play Everspace.
Kickstarted beauty
Now tell me that's not gorgeous. I mean, seriously, look at it. Developer Rockfish looks to have done an amazing job with this one. Simply put, Everspace is a space shooter that makes the final frontier look anything but lifeless.
Originally a Kickstarter project, Everspace has become the most funded German game (Rockfish is a German studio) ever to spin out of the platform. As you can plainly see, there's ample reason for that. A roguelike in space, Everspace is poised to bring a genre back to life, that's been more than a little stagnant. And it looks to do it in style.
Everspace will offer a full campaign, complete with full voiced characters, so this isn't just an empty shell of a shooter. It'll also offer multiple ships to pilot and VR support via the HTC Vive on the PC. And it'll accomplish all this through the magic of the Unreal Engine. A fact that Epic Games' (licensor of the tech) is very happy about.
"As one of the most engaged teams in the Unreal Engine community, ROCKFISH Games are dedicated to making EVERSPACE great," said Mike Gamble, European Territory Manager at Epic Games. "We recently awarded the studio an Unreal Dev Grant and the game appears to be set up for a fantastic Early Access launch."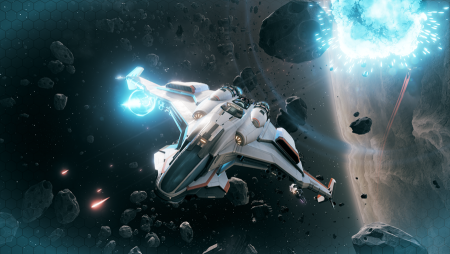 It might look done, but this one is still Early Access
Yes, Early Access, and not just on the PC. Sure, Everspace will be hitting Steam's program, but it'll also be coming to the Xbox One's equivalent. Microsoft's console-bound version of early access is just starting to come to fruition. Everspace will actually be the first game to be offered, which is something of an honor.
"We are very excited to kick-off the Xbox Preview Program for Windows 10 with the highly anticipated roguelike space shooter EVERSPACE," said Chris Charla, Director ID@Xbox at Microsoft. "With its fast-paced gameplay and its stunning visuals it plays great on PC and Xbox One, making it a perfect game for Xbox Play Anywhere."
So when can you play this bad boy? Rockfish says that it'll be landing on the Xbox One, the Windows Store, Steam, and GOG. That'll be in short order too, on September the 14, albeit in Early Access form. As for a full release, don't look for that till past the first of the year. Personally though, I can't wait to dive into this one – especially with the Vive. And I'm going to go out on a limb that there are more than a few people who feel the same.
If either of those options sound like a tempting proposition, then you can grab that Early Access copy starting on the 14th. It'll cost you the price of $29.99 USD. That's a ten buck difference by the way, over the final retail cost. That little number will be $39.99 USD when the game hits in early 2017.