The cast of the new River City game Tokyo Rumble has been formally announced, and they're as old school as might have hoped.
Stocked roster
"We're excited to be able to deliver such a diverse cast of characters for River City fans," said Hiro Maekawa, President & CEO of Natsume. "We know that a lot of River City fans have been waiting to play as some of their series favorites in English for a long time now, so we can't wait to hear what series fans and newcomers alike think of the game and its eclectic cast of characters."
Eclectic indeed. Though, at the same time, River City Tokyo Rumble's cast is pretty darn familiar. And I don't say that solely because the new game looks remarkably like its predecessors. Simply put, Natsume has stuffed a whole mess of favorites in this latest brawler. Misuzu, Shinji, Riki, and Kunio will all be present and accounted for.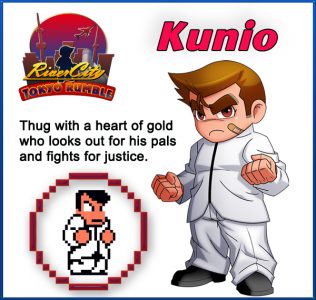 Here's the full list:
KUNIO – Kunio seeks to take back Tokyo from the massive Lion Alliance gang. Kunio is a thug with a heart of gold who looks out for his pals and fights for justice.
RIKI – A misunderstanding with Kunio roped Riki into the fray. Riki fights for justice, but when he gets really mad, he snaps and goes berserk.
MISAKO – Misako frowns on delinquents, but makes an exception for Kunio.
SHINJI – Shinji went to school with Riki and is older, so he expects to be respected. He demands respect from his lowerclassmen, with fists if necessary!
MISUZU – Physically huge, Misuzu intimidates people and has a tough personality to match. Treat this delicate flower like a lady, or she'll introduce you to her fists!
RANDY – Returning from River City Ransom, twins Randy and Andy make up the Double Dragons!
SABU – Gunning for revenge against Kunio, who previously humiliated the Sanwa Gang. Fans of Renegade should remember this bad guy!
TEX – Usually easygoing, until something gets him riled. Then he turns nasty! Watch out for his spin attack!
TIGER CLAW – The younger of the Double Tigers wrestling brothers!
Changes… right here in River City
Aside from all the characters, Tokyo Rumble will also add in something entirely new with RPG elements. It's been a while since the last River-release, but fans should remember that these games are usually just punching and kicking. So this one will deliver a bit of new mechanics to go along with all those playable fighters.
As to when it'll see release for the 3DS, we're not quite sure. Natsume hasn't announced anything in the way of a launch date, but  we'll definitely keep you posted when they do. River City Tokyo Rumble might be a game to watch for Nintendo's handheld in the near future.