Marvel fans are going to be in for a treat with what Hasbro has on tap with Marvel Legends.
The premier Marvel Comics toy line
You know, Hasbro's been cranking on Marvel Legends for a while now. Their first steps with the line were semi-disastrous, you can't get around that, but the company shut things down and rethought things. They took the time to figure out what they were doing wrong and, well, fix things. And since then, Legends has been pretty great. And it's getting better all the time.
The Spider-Man, Captain America, and X-Men Legends sub-lines have been revelatory, producing loads of classic characters. Many of these guys and gals hadn't received figures in the heyday of the Toy Biz years either, so they're very welcome indeed. As great as that previous Legends line was, there were more than a few holes.
And that brings us to this year's selection, shown off at last week's SDCC.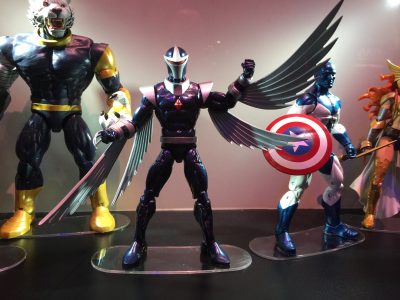 Darkhawks, Dormammus, and Dazzlers. Oh. My.
Yes, all three of the above have been officially unveiled. Dormammu is set to be the build-a-figure in the Doctor Strange wave, while the other two are standard issues. All of them look great, but they're very far from alone in that.
While I was hoping for a few things that didn't appear (a new Ghost Rider bike and Blade among them), I can't say I was let down. Hasbro had a stellar showing, with plenty for this longtime Marvel fan to like.
New Green Goblin and 'symbiote' Spidey? Awesome on both counts. Movie and TV versions of Punisher, Jess Jones, and Falcon? Fantastic across the boards. ANGELA?! Yep, and looking awesome in her first figure as a part of the Marvel U. Remember that she used to exist in the Spawn universe as a part of Image!
Feast your eyes
The bottom line is that there's plenty of awesome stuff on the way in relatively short order from Hasbro. I'm sure we won't see some of these figures for a while, and there will probably be one or two held for multi-packs, but the coolness that's coming is undeniable.
And that Doc Strange wave is amazing by the way… This from someone who's not into the characters at all.
Scroll down and have a peek at what's on the horizon. Oh, and yes, there was a big old diorama this year too. You'll see some highlights from that in the gallery as well. Actually, we'll lead off with it. Enjoy.