Usually happy to skulk around in back-alleys looking for a fight, Street Fighter is ready for a little fun in the sun.
Fun in the sun
Capping off the Summer, publisher Udon has a Swimsuit Special of their Street Fighter comic on the way. The book will feature "the lovely ladies" of Capcom's fighting game series, in their surf-side best.
A comic-sized edition, the one-shot issue will basically be a collection of pin-ups. It's just that, instead of fighting, the gals will be relaxing in that late Summer sun. There's a hefty collection of talent on hand for this issue as well, with both Udon-stabled artists and guests taking part.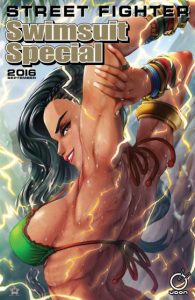 Here's a partial list of who's on hand for the book:
Genzoman
Edwin Huang
Rob Porter
Jeffrey Cruz
Steven Cummings
Long Vo
Gisèle Lagacé
Xa
Vincenzo Cucca
As usual with Udon's Street Fighter series, there'll also be variant covers to collect. Ecchi-Star, Aki Lee, and Nei Ruffino will all be contributing, with Ruffino's cover being a cool homage to the classic swimsuit editions of the '90s. There's also set to be a blank cover too, should you prefer to hunt down a few autographs or sketches.
Ending the Summer with a bang, look for the Street Fighter Swimsuit Special on the stands this coming September.