Dark Horse's Buffy the Vampire Slayer series continues with the penultimate volume for Season 10. Entitled In Pieces on the Ground, Vol. 4 spans # 21 – 25.
As a huge fan of Joss Whedon's Buffy the Vampire Slayer (and Angel), it took me quite awhile to warm up to the post-show comics. Although the humor and characters remained through to form, for the most part, Season 8 suffered from a bit too much freedom. As an entertainment medium, comics hold the rare luxury that anything is truly possible. Rob a swiss bank? Sure. Turn Dawn into a centaur? Why not. Send Buffy to a Fifth Element-Esque future? Nothing to it.
The thing is, just because something can be done does not mean it should be. The extravagant nature of Season 8 made it feel too removed from what had been done within the TV series. Thankfully, Dark Horse's Buffy the Vampire Slayers went back to basics with Season 9 and, especially, Season 10.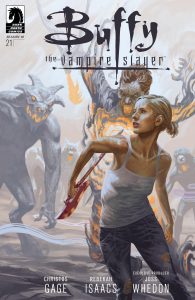 Walking Through Familiar Spaces with Well-Known Faces
In Pieces on the Ground concludes a few different story arcs that have been festering all season. The Demon Lords have been unleashing hell (literally), as demon armies invade different cities from all around the world. Overwhelmed by the work-load, Buffy and Co. attempt to join forces with three untrustworthy organizations that have cost them nothing but harm in the past. As "The Demon Lords Arc" concludes, the Scooby Gang is faced with a harsh choice that could prove fatal for one of them.
It has to be said that the main story arc does not really offer anything new for the series. Demon Portals, End of the World Scenarios and bucket loads of hack and slashing are all part and parcel of Buffy the Vampire Slayer. As is character development and wit, which Christos Gage's script offers in no short supply. Despite a few cameos, the 5 issues focus almost exclusively on the core characters and the relationships that define them.
Buffy and Spike's re-lit romance is put through the Thunderdome, while Willow and Xander attempt to lay to rest ghosts from their past. Surprisingly, the best subplot centers around Andrew, of all people, who finally concludes a character arc 13 years in the making.
Even though the characters remain as fun as ever, and the journey is definitely worth taking, Vol. 4 feels a bit too familiar, for the most part. Buffy/Spike in a relationship tends to domesticate both characters a bit too much, and the Scoobies have fallen out so often that any internal squabbles struggle to stir up any significant tension.
Saying that, the volume does end with a real game changer. Hopefully, the future holds some real nail biters.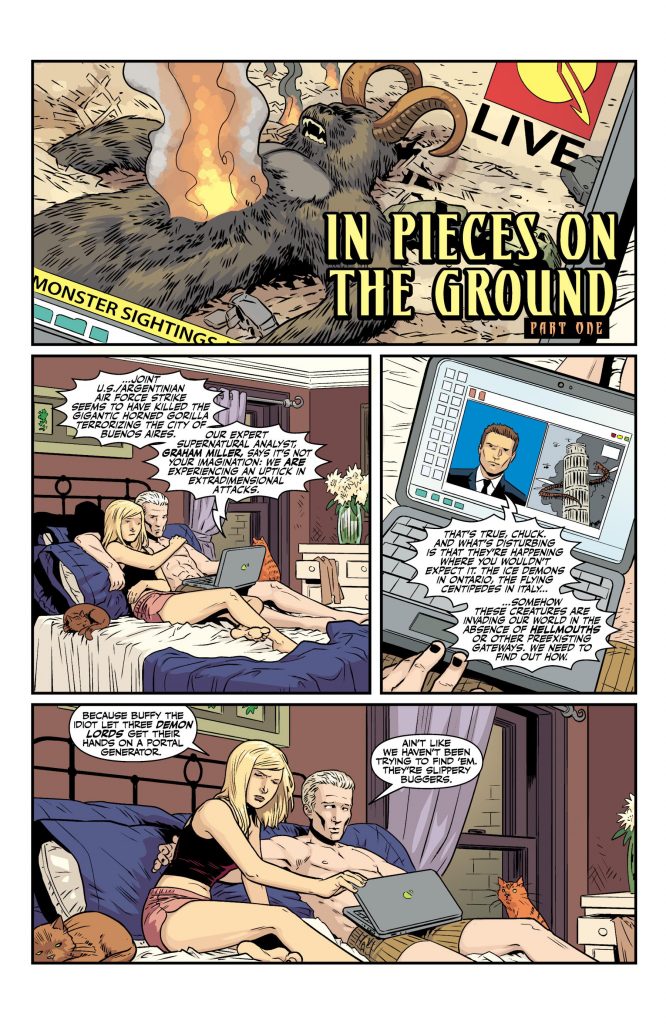 All in the Eyes
Rebekah Isaacs and Megan Levens share art duty, as they have done for most of Season 10. I found their art style to be crisp, pleasant and easy to digest. Earlier Buffy the Vampire Slayer comics sometimes suffered from having overly chaotic panels, but Season 10 has managed to avoid that issue.
Both Isaacs and Levens shine when it comes to facial expressions and character design. The emotions felt by Buffy and Co. never fail to come across crystal clear throughout the five issues. In comparison, the environments tend to be a bit too simplistic for their own good. With the exception of a detour to Vegas, the majority of the locations visited failed to leave much of a lasting impression.
Home is Where the…
Dark Horse's latest Buffy the Vampire Slayer comic volume offers the fans more of the same. As a fan, I found myself completely invested in the stories told here. Sure, it might not be breaking any new grounds, but it offers another opportunity for FANS to visit the Buffyverse.
Buffy Does What It Does Best
An entertaining but prototypical story. - 65%
Artwork that is more than just skin deep. - 75%
Stay Tuned? THAT Ending. So, yes. - 85%
Filled with the standard apocalyptical mayhem associated with the franchise, "In Pieces on the Ground" concludes a few fun arcs, while hinting at a juicer main dish to follow.