Isn't it human nature to measure one's worth based on their strength and ability to survive? Which brave fighter, legendary hero, would be left standing after the smoke has cleared? Well, soon that question will be answered.
For the record, my money is on Leela.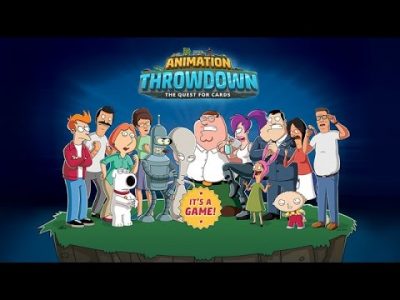 Kongregate, a mobile game publishing subsidiary of GameStop Corporation, has teamed up with Fox Digital Entertainment to bring the iconic casts of Futurama, American Dad!, Family Guy, Bob's Burgers and King of the Hill to an Android or IOS device near you.
Animation Throwdown: The Quest for Cards shall give fans the opportunity to collect their favourite characters and put together the ultimate show-themed deck.  After the teams are set, then it's off to battle against other players from all around the world.
Kongregate is co-developing the title with experienced card game developers Synapse Games (Tyrant Unleashed) and Chinzilla Games (Little Alchemist). "Peter Griffin will duke it out with Bob Belcher, or Leela, or even Hank Hill. Fans get to select their all-star lineup in this inventive, genre-bending game," said Rick Phillips, Executive Vice–President, Fox Digital Entertainment. The aim is to provide an enjoyable experience for both casual and hardcore mobile gamers.
Animation Throwdown is scheduled to be released in the third quarter (Q3 2016), and will be available on IOS and Android devices. The publishers have indicated that other platforms should follow. You can also check out Board Game Card Sleeves, if you are interested in card games.