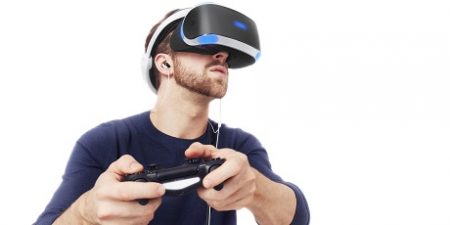 Playstation VR (PS VR) is one of the competing virtual reality consoles, along with Oculus and HTC. Unlike other hardware solutions PS VR features very reachable price of 399$. Developers from Sony, Alongside with individual console, offer a complete bundle of PS VR and so-called VR move wands. These are special hand controllers for more realistic game experience. On the contrary Sony admits that popular price goes slightly at the expense of quality.  Part of the company's campaign for PS VR is recent revelation of upcoming exclusive or non-exclusive titles. We looked into some of these most anticipated PS VR games. We deliver you 3 titles  that we believe explore the new Virtual Reality technology the best.
Batman: Arkham VR
Arkham VR exploits the detective mechanics players know from Arkham series. The game revolves around murder mystery and is closer to adventure genre than ever before. For one thing Batman utilizes crime-solving methods like real-time reconstruction revealed in the latest Arkham Knight entry. The game waives fast and intense combat system in favor of adventure features. Developers from Rocksteady Studios explain they want to prevent possible VR nausea – result from unbalanced movement solution. Players will enjoy the most realistic Bat experience so far. Entering the Batcave, getting Bruce Wayne into the iconic costume and loosening him upon Gotham's villains. In addition, Kevin Conroy, known for animated and Arkham series, once again assumes the role of Batman's voice actor. The game launches October 5 this year.
[embedyt] http://www.youtube.com/watch?v=SwdZvJfxqtE[/embedyt]
RIGS: Mechanized Combat League
Rigs combines shooter with sport genre. Teams consisting of three players each strive for victory through overloading their mechs. Every player, seated within combat mech, must gather globes positioned around the arena. Once one of the players reaches the Overload state he must literally throw himself through a large ring hovering above arena. That's where shooter elements come into play – the teams try to stop one another from reaching the objective – with weapons. The game feature high mobility and fast combat, yet it maintains fluent playability. RIGS is for fans of multiplayer competition. The developer  Guerrilla Cambridge has not announced the release date yet.
[embedyt] http://www.youtube.com/watch?v=gDO7Ockyurk[/embedyt]
Star Trek: Bridge Crew
This game explores possible cooperation in virtual reality. In close space – four players take up the roles of officers on legendary Star Trek spaceship. The player assumes position of either captain, navigator, engineer or tactical officer. Solo or in team, but developers promise that  gameplay escalates to another level while playing co-op. The bridge crew must overcome many cosmic encounters on its journey through the endless space. Generally speaking, the game is notable for its exploitation of virtual reality. Players closely see and respond to each other.   Developers from Red Storm Entertainment did not specify the release date so far.
[embedyt] http://www.youtube.com/watch?v=romB8e5nMp8[/embedyt]