Pokemon-mania is in full-drive. Fans will (finally) be able to bring their Pokemon to the real world with the mobile AR title, Pokemon Go. The poké-frenzy doesn't end there. At E3, Nintendo showcased more of Pokémon Sun and Moon and revealed 4-player free-for-all battles. While fans patiently wait for these titles, Nintendo is serving up other ways to get your Poké-fix.
The Wii U's Virtual Console will be welcoming three entries in the Pokémon Mystery Dungeon series. Gamers can save their fellow pocket monsters with Pokémon Mystery Dungeon: Rescue Team Red, Blue and Explorers of Sky.
There are currently no announcements about release dates or prices. Gamers can expect to see these games in their eShop's Virtual Console soon.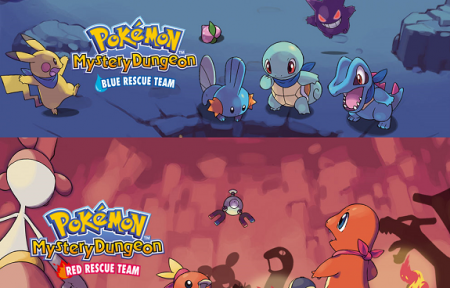 The franchise features talking Pokémon in a human-less world. The mystery-dungeon RPGs follow a human-turned-Pokémon in their adventures through the Pokemon world. The gameplay revolves around dungeons that change their layouts with every play-through. The spin-off series marks the first time in the Pokémon franchise where players can be a Pokémon. Pokémon Mystery Dungeon games feature a deceptively deep story and countless references to the main games.
Are you ready to be a Pokémon, again? Is this going to scratch your Pokémon itch while you wait for Sun and Moon? Let the Brutal Gamer team know in the comments!