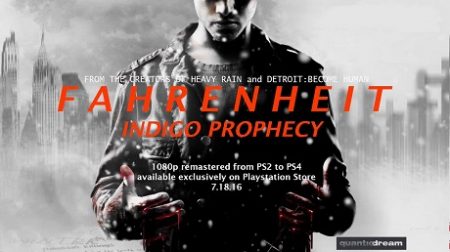 Quantic Dream, developer of Heavy Rain, has announced a remastered version of now classic adventure thriller Fahrenheit: Indigo prophecy. The game is part of the PS2 classics line and will be available on July 18 2016. Developers state that this is the remaster of original console game, not a port PC version.
Remastered PC version arrived in 2015. The game experiences new glitches. The developers didn't cut down or revamped troublesome mechanics, especially quick-time events and arguable stealth. Although the PC remaster is a bit of a disappointment, it has revealed the cult classic to a new generation of gamers.
Fahrenheit: Indigo Prophecy introduced unparalleled and bold mechanics in its time. Primarily, the player plays as a murderer and investigator at the same time. Moreover the critically appraised title combines movie-like momentum and dynamic dialogues. It sprawled a debate about what still is and already isn't a game.
Quantic Dream is currently preparing for the release of the newest title Detroit: Become Human. The title was presented at E3 this year.