EA's E3 2016 presser was loaded with info (and fleeting glimpses) of some pretty awesome-looking stuff. Not left out of that mix? Madden 17.
While we've heard all about Madden NFL 17's new booth, and seen it's graphics in action (it looks great by the way), we haven't heard a whole lot about what's new in terms of gameplay and features till today. EA's press event, called 'Play', changed all that though as the mega-publisher dug into the meat of the all-new franchise mode.
According to EA and developer Tiburon, the goal for Madden 17 was to streamline the play experience, but also add more to it, and keep things seamless. All of that sounds pretty counter-intuitive. Oh yeah, and with all that, the game has to still be -you know- fun.
The new elements basically narrow down to two areas: off field play, and Play the Moment. And of those two, Play the Moments is far and away the biggest game changer. The new mode allows gamers to sim games through all the 'tedious' stuff, CPU vs CPU style, while waiting for each single game's big moments.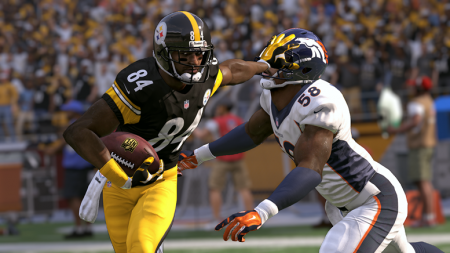 When there's a three and out, you won't be called on to play, but as soon as "red zone drives, vital third downs, game-winning drives and more" pop up, you'll be yanked of the bench (in this case, couch) and have control over everything as though you were playing a normal game of Madden.
The big idea is to make games general move faster and make 0laying through a whole season more appealing. EA says you can play a full 16, playoffs, and Superbowl all in a weekend if you like – and I assume they don't mean nonstop play, because it sounds like you could probably play two or three seasons if you did that.
Personally, I enjoy playing complete games, so this might not be my cup of tea, but than again I'm not much for playing through seasons anyway. I'm more of an 'exhibition game' guy. So if you do play full seasons often, Play the Moments might spice things up nicely. Oh, and you can turn this feature on and off whenever you like. So if you don't dig it, no worries.
And then there's the off field elements I mentioned. Off the field stuff has seen an expansion for Madden 17, and now includes several elements that it never has before. Namely, you can gain in-game boosts by analyzing your opponents strengths and weaknesses and tailoring your strategies to match. You can also make 'Big Decisions' as though you were in the front office like "bringing players back from injury, signing free agents, negotiating new contracts and more". Lots to like there if you're a longtime fan, even more if you're into the aforementioned season play.
There's even more new stuff though, like "practice squads, full player editing and a dynamic score ticker", all of which was directly requested by series fans. So EA's listening folks.
August 23rd is the date, mark it off on your calendars, as that's when Madden NFL 17 comes to the Xbox One, PS4, Xbox 360, and PS3.