Join Bjorn in Demetrios The BIG Cynical Adventure!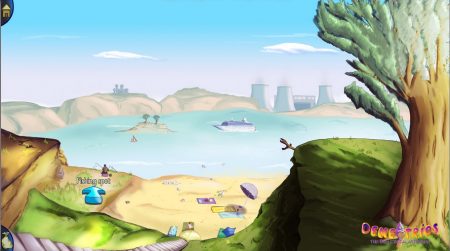 COWCAT presents Demetrios The BIG Cynical Adventure. Inspired by classic point-and-cick games that have come before, Demetrios is sure to put a quirky spin on the genre.
You play as Bjorn, a slobbish antiques dealer based out of Paris, France. After coming home drunk, Bjorn discovers that he has been robbed. With no help from the police, Bjorn has to take on the investigation for himself. As your investigation continues, things become stranger and stranger. Decieve the detective, impress the cute neighbor, find the neighbor's kid. And the list continues.
This casual game contains 8 to 12 hours of gameplay full of hand-drawn HD imagery. Mini-games included in-game, so there's always a little extra going on. For example, each scene contains 3 hidden cookies. These cookies are your source for hints. Be on the look out, because if you are like me, you will need plenty of these cookies. Though, be prepared, the characters' commentary gets a bit more colorful after they've had a few.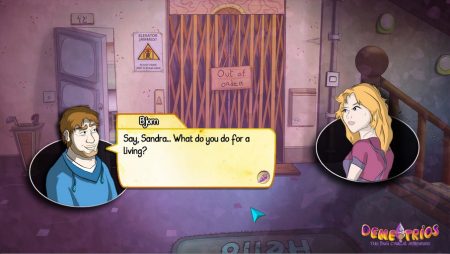 After the investigation leads Bjorn around Paris, you track down your thief. Though, only after you have to put together a policeman's uniform can you confront him. This begins the unusual spiral of absurdity that you will experience here. Don't be afraid, because it's all in good fun. You find the first, of what you eventually learn is 5 strange tablets. From there, you find yourself in a small, remote town (and country) named Nogo.
Off to Nogo
Once in nogo, you will meet the likes of sorcerers, kidnappers, and bazaar shopkeeps. The sketchy museum curator gives you more information regarding your tablets, and sends you on your way. Only time will tell what will happen with you and the crazy birdy statue, when you collect all five tablets.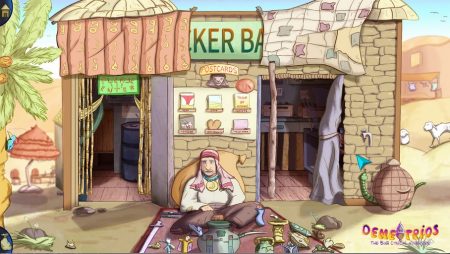 The gameplay of Demetrios is pretty straight forward, click on the item you wish to interact with. Some things were inane when you clicked on them, 'the switch does nothing'. Though many times, you click on an item, and you will end the story. The image of a casket with your name on it, and how you died (this time) will appear. If you play like me, you will see this casket dozens of times, with many different story endings.
As stated, the art style is hand-drawn. This gives a unique look to the game, almost comic-book like in appearance. Who said you can't have a little fun when you make a game, right? There are no voices in the game, so you can insert any cute or outlandish voices to the characters you come across. The music to this adventure is upbeat, with no lyrics, but it keeps you centered on the decisions of keeping Bjorn safe.
Quirky Adventures
Uniqueness - 85%
If you like point-and-click adventures, then pick up a copy of Demetrios, the BIG cynical adventure. Colorful commentary and ridiculous actions, who wouldnt love this little break from reality?