The trio of characters that will star in AMC's Preacher are a motley crew, and not all together good or bad.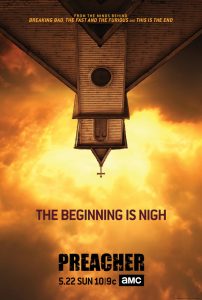 If you're not all that familiar with the latest comic book adaptation to head to television, you're probably not alone. Preacher is a book that ran under the DC Comics' Vertigo banner in the 1990's, ending its run with issue 66 in 2000. While it didn't have the deepest issue count, it did make an impression, one that's lasted all the way through to today. It's also assembled a pretty rabid following that didn't let the dream of seeing a live action version die with the book.
The story (which'll be very similar for the show) centers on Jesse Custer, a preacher in a small Texas town. He's a man with no end of problems. Likewise, his on-again-off-again girlfriend Tulip and buddy Cassidy are seriously flawed individuals too. Add in a heavy dose of supernatural happenings and characters from "Heaven, Hell and everywhere in between", and you've got a cult classic that should find an eager audience when it hits the small screen on AMC.
The show premiers in just ten days (May 22nd), and you can get a head start on the festivities, by hitting this link. There, on Fandom.com, you'll get a crash course in everything that you'll need to know about the main characters, including actor Dominic Cooper's Custer, the title man of God.