Ghostbusters, Marvel, Aliens and more… there's lots to like this Fall with DST's upcoming action figures and collectable releases.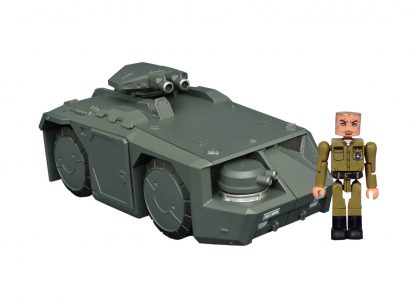 As usual, Diamond Select's upcoming stuff looks awesome. Also as usual, there's a whole mess of it set to hit stores.
In this update, we're talking Fall 2016 stuff, which will include more (classic) Ghostbusters figures, more Minimates (Daredevil ones from the Netflix show!), a COOL Harley Quinn bottle opener, a Star Trek Select Khan figure from the classic movie, and a Minimate-styled APC from Aliens… which might be my pick out of all of it.
I mean, that thing is freaking cool. Minimal vehicles are great to begin with, and most of them have been excellent little additions to the line, but this one takes the proverbial cake.
For one thing, it comes with a mini-Gorman (and he's got an alt-head that's all bandaged up), and all the trimmings that you'd expect from a toy based on the APC from the film. But the last slice of that cake is that it's got seating for five Minimates. Obviously, that has to mean that the image to the right is out of size, because that's a lot of leg-room. Either way though, the thing is awesome.
Scroll on down to see everything including this little beauty and those awesome Ghostbusters toys I mentioned (which really is a great line), and also to read up on the details for everything. Then make sure you head on over to your local comics shop (or online retailer) to pre-order. Everything here should be out and ready for sale sometime this Autumn.