In Between is the tale of a man diagnosed with terminal cancer. Players will journey through a series of platforming puzzles as the protagonist reflects on his life. The developers of the game, gentlymad, has taken a simple yet complex approach to a rather difficult subject. In Between wants to discuss what it all means and why people are here. This highly emotional game is sure to get the feelings flowing. To share this character's story, players will dive into a dense atmosphere and solve puzzles across this platformer/physics game.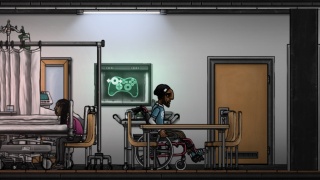 Players will travel across time and space as they experience gameplay derived from thanatology, the scientific study of death. The protagonist will have to solve mind-bending puzzles by manipulating his surroundings. This is not a typical platformer. The developers wanted to create a game devoid of apathy and repetition.
Always looking for ways to look outside the box, the small team at gentlymad is trying to create games that are free from overused and repetitive puzzles. It is their passion to create games that are fun to play and add value to the time spent playing. Check out their list of other titles here,
In Between is published by Headup Games. Not short on experience, Headup Games has published a lot of popular indie titles. Super Meat Boy, Limbo, Terraria and Gone Home, are just some of the titles Headup Games has published during the past few years. Together with gentlymad, these two teams have developed a unique gaming experience and one definitely worth experiencing.