The next installment in the storied Oddworld franchise was just announced by its developers, Oddworld Inhabitants, Inc. and in conjunction with Frima Studio in Québec, Canada.
There isn't much information on the next game yet, but what is certain is that this means that New N' Tasty, the recent remake of the original Abe's Odyssey, did well enough to warrant additional development in the series.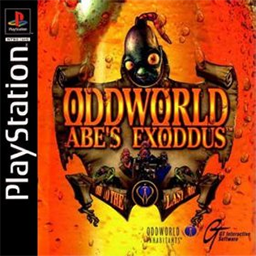 From the context given by developers at the game's website, it appears that the newly announced game, Oddworold: Soulstorm will likely be a remake of Oddworld: Abe's Exoddus.
"There was a deeper, darker, and more sinister story that we never got to tell," explains series creator, Lorne Lanning. "Soulstorm gives us the opportunity to flesh out more meat on the bones of an original spine, but re-tell the fable from a very different angle," said the game's press release announcement.
"We can't wait to show you what we've got planned for Soulstorm" says executive producer Bennie Terry.
"We think Oddworld fans are really going to dig what we're brewing, and we've got some great surprises in store this time around we don't think anybody's going to predict," he added. "I've been tasting it, and it's definitely got twice the twisted flavor," he said in a press release.
My first real experience with the Oddworld universe came with the recent New N' Tasty release. I immediately fell in love and have since played at least pieces of the original games. If this remake is as genius as the most recent foray, I really can't wait.
The game is announced to release in the latter half of 2017. The platforms release have not been announced, but I believe it will release on most relevant platforms based on New N' Tasty.
www.Oddworld.com/soulstorm has some cryptic information in the way of what the game entails, and I personally can't wait to find out more.