Valiant Comics' fans have a new place to visit online for all their Valiant-themed goodies.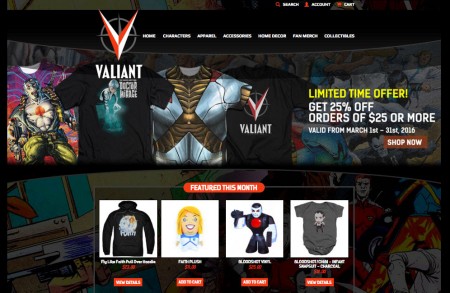 "As Valiant's fan base continues to expand, this enormous offering of high-quality items is the best way to spotlight our ever-growing product line," said Russell A. Brown, Valiant's President of Consumer Products, Promotions, and Ad Sales. "Our new web store features the largest selection of Valiant merchandise to date, and we're incredibly fortunate to have such a wide range of leading licensors who will create only the best merchandise with our characters. With thousands of products available, ValiantStore.com can take your love for the Valiant Universe to a whole new level."
Though there's more and more all the time, there still isn't loads of Valiant Comics stuff out there really. And what there is can be hard to find, well, till now anyway. Yep, the all-new ValiantStore.com is finally open for business.
Re-opening a few days back, ValiantStore.com stocks every piece of official Valiant-everything that you can think of. From apparel to collectibles and everything in between, they've got the goods on stuff featuring X-O Manowar, Faith, Bloodshot and plenty more of the publisher's heroes.
And that list includes:
T-Shirts
Tank Tops
Hoodies
Hats
Vinyl Figures
High-End Statues
Lithographs
Art Prints
Mobile Cases
Pillows
Duvets
Curtains
Ottomans
Mugs
Magnets
Infant Snap Suits
Buttons
The store is open right now (here), and even has a little special to get you up and ordering. Just visit between now and the end of the month (March 31st, 2016), and you're going to get a tidy 25% off any order of $25 USD or more.
That's a pretty sharp deal, and one that's all too easy to take the company up on. Believe me, at the last NYCC I ended up spending way more than that on Tee's and graphic novels. I just couldn't pass up on that X-O sublimation shirt.