Already with a few offerings on the market, Dark Horse is expanding its collectible line of Halo spacecraft with a trio of new ships.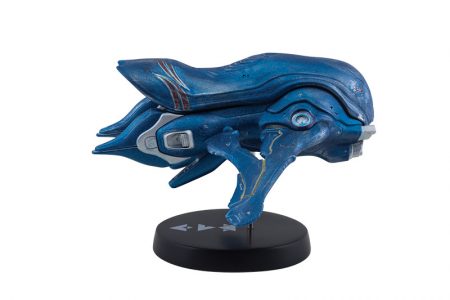 "Since I was a kid, I've been obsessed with spaceship models. The more detailed, the better. There was something so visceral about holding a ship in your hands, feeling the weight and heft of it, and if I'm honest, swooping them low and tight above a hedge or a lawn and pretending I was making a bombing run on Endor. The Dark Horse replica Halo ships are exquisitely crafted, and now have pride of place in my Halo collection, and adding Forerunner, UNSC, and Covenant craft to my collection is a selfish and guilty pleasure. Nowadays I may not make those bombing runs, but I confess, I'll still voice my own sound effects as I swoop them from the couch to the mantle," said Frank O'Connor, franchise development director of 343 Industries.
I don't think you're alone on that one Franky. And if you've been hankering to add a little more Halo-branded hardware to your own collections, it's going to be a good year for you. Dark Horse has a sampling of craft on the drawing boards, all of which will be hitting retail in 2016.
Included in the line's expansion is the distinctive and stealthy UNSC Prowler, the iconic Covenant Banshee, and the first Forerunner ship from Dark Horse – the Phaeton. They join the the UNSC Pelican Dropship, the UNSC Infinity, the Covenant Truth and Reconciliation, and the ship that kicked off a franchise- the UNSC Pillar of Autumn. The Pillar will be arriving in May of this year, and yes, I will be buying the hell out of it when it finally gets here.
Oh, and don't forget that there's plenty of Halo comic book action coming out of Dark Horse as well. In-canon stories like Halo: Escalation and Initiation both have extended the fiction past the TV screen, giving life to well-known and new characters alike, and the forthcoming Fall of Reach will translate one of the most classic Halo tales into the comic book format.
"With the success of our previous Halo ship replica offerings, we are really excited to dive into the Halo 5: Guardians universe!" Dark Horse Product Development manager Chris Gaslin said.