Take one part Mad Max, one part classic monsters, and then add in a heaping-helping of Army of Darkness. Now shake all that up and you'll probably get Army of Darkness: Furious Road.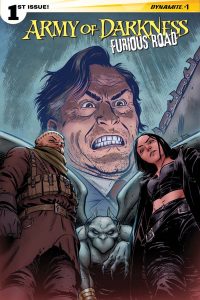 The (unfortunate and unwilling) guardian of the Necronomicon is back once again with the latest book starring Ash Williams from Dynamite Comics. this time though, it's not just deadites that he'll have to battle, but versions of some of the greatest monsters of all time. Not that there won't be deadites, as Furious Road is actually loaded with them.
Set 20 years past the present and in an alternate timeline, Ash finds himself in a North America that's overrun with the walking dead. The creeps from the Book of the Dead have conquered the US, and sent it spiraling down into a post-apocalyptic wasteland. There's a twist to this madness though, and it involves "vampires, witches, and werewolves".
Nancy A. Collins casts the square-jawed hero of Army of Darkness twenty years into the future, where The Deadites and their Army of Darkness have succeeded in bringing down Western civilization. An unexpected upshot of the demons taking over? Supernatural species such as vampires, witches, and werewolves forming an uneasy alliance with humanity in order to survive. The only hope for both mankind and monsters alike is a ritual that will send the Deadites back to the hell that birthed them. But first, a rag-tag crew that includes the Frankenstein Monster and Eva, the Daughter of Dracula, have to track down the fabled spell book known as the Necronomicon Ex-Mortis and deal with its guardian, a certain Ashley "Ash" Williams.

"I think Ash's biggest appeal is that he's just an Ordinary Joe thrust into some serious Lovecraftian high weirdness" says Collins. "He is doing his best to be a hero, even though he really doesn't want the job."

"Nancy Collins has crafted the perfect Army of Darkness story, putting Ash squarely into a post-apocalyptic world over-run by Deadites, where his only allies are horrific. Plus: Dracula," says Dynamite Entertainment editorial director, Joe Rybrandt.
Yeah, Dracula really can't be overstated there. Namely in the fact that this is SUPER-DIFFERENT for an AoD story. It also sounds super-cool though, and shaking up the formula of Ash basically only interacting with demons and the possessed is a solid idea.
It should be very interesting to see how this one plays out. Army of Darkness: Furious Road comes from the minds of Collins and Kewber Baal (fitting name), and will be graced with an all-star team of cover artists for some wicked variant editions. You can expect to see the likes of Tyler Crook, Gabriel Hardman, Francesco Francavilla, and Tony Fleecs all contributing when the book hits retail on March 2nd.