Sheado.net's new shmup (shoot-em-up) A Quiver of Crows is a quick paced 2-hands adventure in the life of a crow.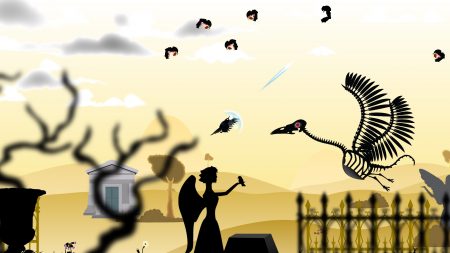 With a land cursed by darkness, magic has reanimated the corpses around you. Battle skeletons, flying heads and even vampiric skulls as you work toward vanquishing your enemies.
Seeing the quality product that A Quiver of Crows is, you would be suprised to know that this a small, three-person team. This makes me like them all the more. I have been following the development for this game for a while now, and am excited to say that it is getting close now.
There is not a lot of story here, and that is fine. Prepare to limber up your hands for this shmup. Things start slow, but before you know it, enemies are in front of you, behind you, above you as well as below.
It is recommended you have a controller for this game, and I agree. You can use the keyboard, but it seems less fluid than the joysticks would be.
I don't know about you, but I am not used to having to run (or fly) backwards regularly to clear out my enemies. This one is going to take some practice. And I look forward to it!
With a release date set in Spring 2016 on PC, keep your eyes open, you won't want to miss it.