More Valiant toys? Yes please.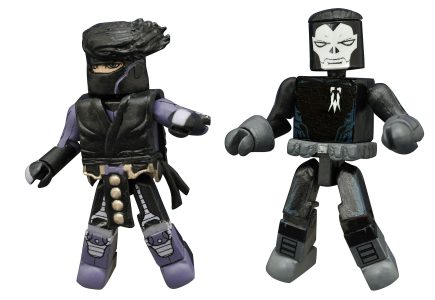 You'll be able to add both Shadowman and Ninjak to the already available XO-Manowar and Bloodshot Minimates very soon. Diamond Select Toys is readying the Valiant Comics heroes for release as its second Valiant Minimates 2 pack. The pair step out of the pages of the new Operation: Deadside story arch, which is currently playing out in the Ninjak solo book.
They look pretty awesome too, and will ship with the usual assortment of alternate parts, so you can deco the heroes how you like. I'm hoping to see plenty more of these in the near-future, and that sounds like something that DST and Valiant are looking for as well.
"The reaction from Valiant's legion of fans around the world to our partnership with Diamond Select Toys has been absolutely ecstatic," said Russell A. Brown, Valiant's President of Consumer Products, Promotions & Ad Sales. "Ever since the first set of Valiant Minimates hit shelves in 2015, we've received a near-constant stream of demands for more. Now, at long last, we're proud to debut the brand-new Ninjak/Shadowman Minimates Two-Pack, just in time for the New Year."

"The Valiant Universe is full of great characters, not to mention great costume designs," said Diamond Select Toys President Chuck Terceira. "We're excited to be able to interpret these characters and costumes in the Minimates format, and we look forward to expanding on our Valiant offerings in our new Comic Book Heroes line."
Featuring 14 points of articulation each, and standing in at 2″ tall, the Shadowman/Ninjak 2 pack will be out in stores this coming Spring.