It's a blast from the past, as ROM: The Space Knight is on the way back to the printed page.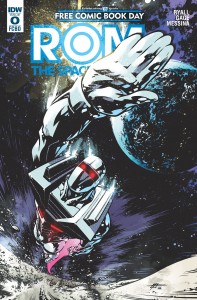 You might remember ROM, then again, you might not. He hasn't been seen in a comic book after all, since the last issue of his long-running Marvel comic. And that book closed it's run way back in 1986. Yes, it's been a while.
He's back now though, as IDW Chief Creative Officer/Editor-in-Chief Chris Ryall will be taking on the writing chores for the brand new book, along with Christos Gage. The upcoming '0' issue of the comic will also sport artwork from David Messina with cover art from Zach Howard and Nelson Daniel. Messina though, will be back as he's been tagged as the main artist on the ongoing series.
"It's no hyperbole for me to say that launching a new Rom comic is one of the things we've most wanted to make happen for fans," said Chris Ryall. "I know this because I'm one of them. The character has been absent from comics for too long and we can't wait to introduce this all-new version to the world."

Rom the Space Knight tells the story of Rom, a member of the benevolent Solstar Order and greatest of the Space Knights, interstellar soldiers in a centuries-old war with the Dire Wraiths. The Wraiths are a race of alien invaders who've destroyed many planets and infiltrated Earth for nefarious purposes.

Rom the Space Knight #0 will feature an introductory 10-page story of Rom's arrival on Earth, an incident that sets up an ongoing Rom series launching in July 2016.

"Many people have only heard of Rom but that's it," continued Ryall. "And those that do know of his past iteration might have some preconceived notion of what this series will be. And while we can promise that the DNA of the character as established with the original toy remains intact, there will be surprises galore as people experience a new universe built entirely around Rom and company."
So a book that's sure to stir a little nostalgia for fans of the original comic, but also one that adds in a bunch of new stuff and actually looks to craft a whole new universe. Sounds pretty awesome actually.
It's also notable, by the way, that the first issue of ROM: The Space Knight, will include a fair set of bonuses. You can expect to get "character sketches, creator interviews and a glimpse of things to come" all packed into the comic's inaugural issue, which hits stores in May. Publisher IDW is touting this as a "major" new release too, and not only for them.
They also cite license-holder Hasbro, which pretty much means that there's some kind of new toy line more than likely in the works as well. It's a surprise, that's for sure, but it's nonetheless looking like 2016 will be a good one for ROM fans.