Udon's latest tome pays tribute to some of the greatest fighting game franchises of all time from Capcom.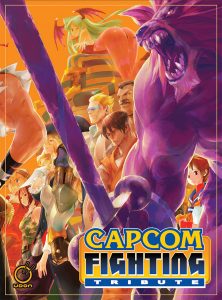 Longtime publisher of art books Udon has been know to produce some amazing artwork-laden books for Street Fighter; I even have a signed And framed print from a con I went to a few years ago and it's one of favourite pieces of video game art by far. But while it's no surprise to see Udon pumping out more amazing pieces in this newest collected edition, it is a surprise to find that their new Capcom Fighting Tribute book is a whopping 280 pages containing wildly different styles assembled from across tons of Capcom fighting games.
There's the mainstays like Street Fighter and Darkstalkers sure, as well as some under appreciate franchises getting some artistic love like Puzzle Fighter and Final Fight, among others. There aren't tons and tons of books out there with stuff from these lesser-known, but no less classic, of Capcom series', so it's particularly cool to see them represented here in the Fighting Tribute book.
The varying styles included run the gamut too from stuff like Chibi, to hyper realism, pin ups, playing cards, posters, cartoons, anime, golden age comic-style work, and even homages to other video games. Among a few other interesting interpretations, this all brings a fresh take to some of the most familiar characters in gaming.
And the artwork in this book is nothing short of amazing by the way. There are so many great illustrations that I'm sure you'll have as hard a time as I have trying to figure out which ones are your favourites. For someone who loves game-influenced artwork, it's like being in a candy store and being told to go crazy; you want everything!
Final Thoughts
I can't recommend this book enough; I'm a fan of Udon, and the stuff they manage to put out is extraordinary every time, especially this collection. Pick it up, or fists will fly at this location!