A second wave of Marvel Animated Universe Minimates has been announced for Walgreens stores in 2016.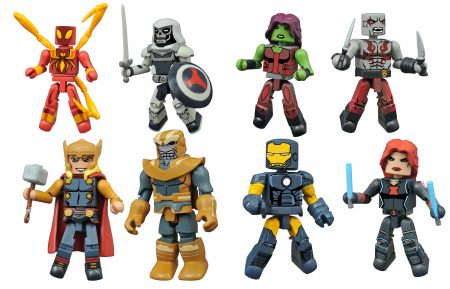 Continuing their relationship, it looks like DST and Walgreens stores will be rolling on with their series' of Minimates based on the Marvel Animated line of shows for the next year. 2016 will see more two-packs hitting the shelves of the drug store/supermarket with variants of mainstay characters like Iron Man and Thor, as well as a few new offerings like Thanos and Gamora and Groot from Guardians of the Galaxy.
All in all, it's a sharp lineup for 2016's first assortment, and should be arriving early in the year. Here's what's on tap (scroll down for more pics):
From Marvel's Avengers Assemble, "Dark Avengers" Thor with his hammer Mjolnir and an alternate helmetless hair piece, and Thanos, the universe-conquering Titan.
Also from Marvel'sAvengers Assemble, "Dark Avengers" Iron Man with a removable helmet, and Black Widow with her shock batons.
From Marvel's Guardians of the Galaxy, Gamora with her sword and Drax with his knives and baby Groot.
From Marvel's Ultimate Spider-Man, Iron Spider-Man with an interchangeable unmasked head, and Taskmaster with his sword and shield.