Come November 4th, players will be able to put Checkpoints into their stages.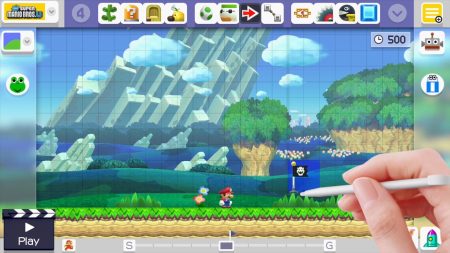 Nintendo has just announced that the much-desired fan feature (checkpoints) is being added to the game on November 4th via a free update.  The ability to try again should make some of the more unbearably difficult stages doable- so long as the creator is nice enough to give you that advantage.
Of course, this comes just after really craft gamers figure out how to design checkpoints of their own.
But for those of us who don't understand advanced physics and quantum theory, the new checkpoints seem like a preferable alternative.
Players can also add another wrinkle to their level via power-ups that change based on Mario's size- just like they did in the original games.  So if Mario is a wee-little squirt, a question-mark block will give him a Mushroom.  If he's large, then that same block will give him a Fire Flower.
Nintendo has also included a tab to share levels from "partner creators outside Nintendo."  One of these partners will be Facebook, and new Event Levels are planned for the foreseeable future.
Once more, the update goes live (for free) on November 4th.  Who knows what other kind of free content Nintendo will release for Super Mario Maker's million-plus players?  This editor is hoping for a bit more enemy variety, and knows the people want those slopes.  You can check out our favorable review of Super Mario Maker here.