Head to your local comics shop this Saturday for free comics and Halloween merriment.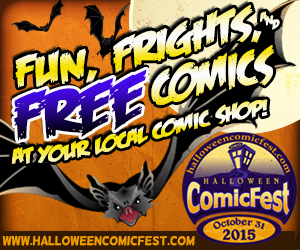 Halloween falls on a Saturday this year, and the means that the second biggest free comics event on the calendar does too, which also means a whole day of festivities for those off from work and school. Participating stores across the US will be handing out 1.75 million free comic books to anyone who dares enter their shops on the big day.
You'll be able to pick from between 21 different freebies on Halloween, including "13 full-size and eight mini-comics will be given out, with titles including DC Comcs' Harley Quinn and Batman Adventures, Marvel's Dr. Strange and Ultimate Spider-Man and Avengers #1, Sabrina, Archie, Donald Duck, Skylanders and other great titles for comic readers of all ages to snatch up for a thrilling read."
It should also be noted that you can pick up 25-packs of mini-comics at you local store to hand out instead of candy for Halloween. The packs are kid-friendly and aimed at getting young readers hooked on comics, as is the whole event really, and there's no better way to do that than freebies.
"We want communities to participate in Halloween ComicFest to not only discover various types of comics from the great selection offered, but to see comic shops as fun Halloween destinations, a great place to meet like-minded people, and to discover the new, cool comic and pop-culture items available each week and all throughout the year," said Halloween ComicFest spokesperson Deborah Moreland. "This year there are more comic shops participating and more free comics that will be handed out, making it a great sign that retailers are expecting for more fans to celebrate Halloween with them!"
Also worth talking about, is that there's a costume contest happening in conjunction with the 'Fest. All you need to do to enter is to take a snapshot of you in your costume while holding one of the free books that you can get on Saturday. Once you've got your pic, upload it to the "appropriate" category on the website (which is here) and you could win a shopping spree at your local store that's worth $100 to $500.