Udon has a devil of an entry in their art book series ready for retail as Devil May Cry: Graphic Arts is now available.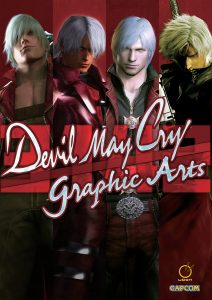 Covering all four classic DMC titles (so the new reboot is left out) as well as the anime series, Devil May Cry: Graphic Arts is just about the perfect tome for the Dante fan. If you're a fan of Udon, then you know what to expect here, lots and lots of gorgeous artwork.
On top of that though, you're also in for a number of interviews with the minds behind the games, and an inside look at what went into designing Dante and his world.
Inside you'll find character models, weapon designs, creatures, locations, rough concepts, and exclusive tribute illustrations. Also included are over 25 pages of exclusive interviews with the developers and artists behind the long-running series, as they discuss character origins, difficulties, their favorite series moments, and much more. The book also features detailed creator commentary and rough sketch notes throughout every chapter, where you'll get the real scoop on the creation of Vergil, Nero, Trish, all your favorite enemies, and the legendary devil hunter himself – Dante.
Devil May Cry: Graphic Arts is available right now and can be yours for $44.99 USD.