The stealth-heavy, goblin-sneaking game Styx: Master of Shadows is officially getting a sequel with Styx: Shards of Darkness.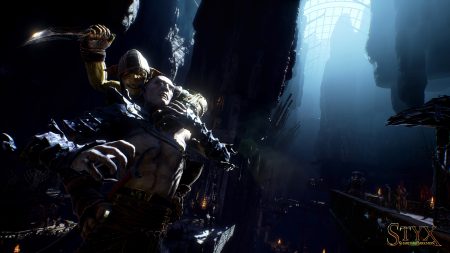 How does Styx, but with a "bigger budget, bigger ideas, and a new engine: Unreal 4" sound? Since the original game actually got a pretty decent reception, I'd imagine that it sounds pretty good.
In development for only about 6 months at this point, Shards of Darkness is a brand new Styx, "built from the ground up". For this sequel, Cyanide Games is promising more than just looks too, as they'll be trying to deliver a "more nimble" and "refined" playable character, and a deeper world for him to play in- one with an all new story too.
In this installment of the little goblin's adventures, he crashes a party at the Dark Elves' home only to find that there's more afoot than drinks and finger-foods. It seems that the Dark Elves have forged an alliance with the Dwarves. Together they're a pair of fantasy races that mutually despise one thing and one thing only – goblins. I think you get the drift.
There's no release date as of yet for Styx: Shards of Darkness, but we do know that it'll be lunging onto the Xbox One, PS4, and PC some time next year, so stay tuned.