The mega-movie is about to blitz Hollywood yet again with an all new series of films, and for the first time will be branching into the comics realm courtesy of Dark Horse Comics.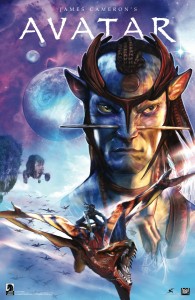 Comics based on films are nothing new for Dark Horse, a company that has made some of the biggest sci-fi and horror films  of all time into some of the most popular comic books around. this though, will be the first time that Avatar is headed to the format, and as you might imagine, it's getting a full-court press. Director Jim Cameron himself made the presentation via a pre-recorded message at the Con, saying "For the past twenty-seven years, Dark Horse has been associated with my films The Terminator, Aliens, and The Abyss. I am excited that between now and the release of the first sequel, Dark Horse Comics will be bringing you new adventures from Pandora—covering the time before, during, and after the events of the original AVATAR film."
As for Dark Horse itself and Twentieth Century Fox, they're all pretty excited to see what's to come from the deal as well.
"James Cameron is one of the film industry's greatest talents. His films, always on the cutting edge technologically, feature rich characters and amazing worlds, a fact reflected in AVATAR's status as the all time box-office champion," said Dark Horse president and publisher Mike Richardson. "We couldn't be more excited about working with James and his team at Lightstorm to expand the breathtaking world of Pandora."

"We're excited to be working with our longtime partner Dark Horse Comics to expand upon the rich storytelling of the AVATAR universe, providing a whole new way for fans to interact. There are so many possible stories to explore and this is just beginning," said Jeffrey Godsick, President of Twentieth Century Fox Consumer Products.
Release dates for any books that are on the way are nonexistent at this point, but Dark Horse says that they'll have more soon, so stay tuned. And in the meantime, scroll down to see that message from Cameron in its entirety.