Looking to add a little more Call of Duty to your gaming setup? Then this awesome new PS4 console just might be the deal for you.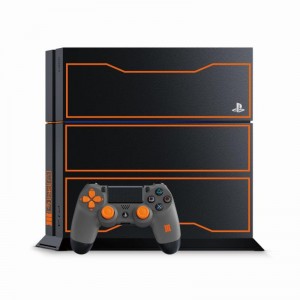 Fun fact: the beta for Call of Duty: Black Ops III was the biggest in the PlayStation 4 console's short history.  Also worth noting is that the Call of Duty series shifts its DLC time-exclusivity plan towards Sony's box for this go-around, so the bond between the FPS series and PlayStation as brands has never been stronger.
With that in mind, it's only natural for something like this new console to emerge. The Black Ops III PS4 is all dressed up in Black Ops III colors, with a sharp black and orange color scheme, and graphics on its face. Of course, it wouldn't be a complete re-skinning if the controller didn't match, and this one does.
Sporting a grey and black colorway, and some awesome orange highlighting, this controller s definitely one that'll stand out. As for perks, this console sports a 1TB hard drive, as well as a copy of Black Ops III and a voucher for the NUK3TOWN bonus multiplayer map.
Pretty nice set all told.