You've got to go back! Back to the comic book store! …if you want some cool BttF stuff that is.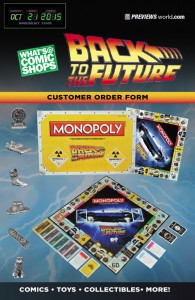 Previews magalog is supporting Back to the Future Day in a big, big way with a special catalog of goodies dedicated to the classic movie trilogy. What's Back to the Future Day?
Well, if you're a fan of the movies, then you know that October 21st, 2015 is the day that Marty and Doc travelled to in the second film. At the time, it was the future, now of course, it's just next month. and nary a flying car to be found (officially anyway). Again though, there is some cool stuff to be had, a good chunk of which you can find in this catalog – and only in comic stores.
"Our goal is to remind comic shop customers that their comic shop is a great source for Back to the Future collectibles, featuring fun and new items exclusive to comic shops", said Diamond's Consumer Marketing Manager, Andy Mueller.  "We'll be reaching out to the visitors of PREVIEWSworld, FreeComicBookDay and ToyChestnews to remind fans about Back to the Future products coming to comic shops and showcase the e-catalog for them to check out. It's easy to go 'Back to the Future', just go to your local comic shop!"
Ready to hop into the proverbial DeLorean? Click here to check out the full catalog.