It's a short sale with a lot of great stuff included for those looking to pick up some digital Dynamite Comics for cheap.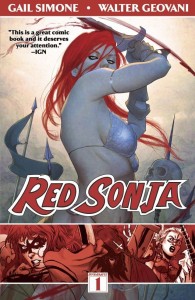 Over 40 books in total are a part of this sale, which is active right now on comiXology and will run through tomorrow. And the deals are good too, with up to 50% being knocked off the cover prices on these titles.
Says Dynamite's CEO and Publisher Nick Barrucci:
"This is an awesome list of Graphic Novels comiXology has put together, and the price is perfect for long-time fans to stock up as well as new fans looking to dip their toes into the Dynamite pool."
So the sale prices will last through 11pm eastern time tomorrow night (July 31st), and includes the following (among others obviously):
The Boys by Garth Ennis and Darrick Robertson!
Legenderry: A Steampunk Adventure by Bill Willingham
Red Sonja by Gail Simone and an incredible backlist of books and collections!
The Twilight Zone by J. Michael Straczynski!
The Shadow by Garth Ennis, Matt Wagner and more!
Kings Watch by Jeff Parker – The beginning of Dynamite's recent KING mini-series event!
Battlestar Galactica by Dan Abnett and Andy Lanning, plus a huge backlist of more Battlestar Galactica comic books!
Kevin Smith!!!! Green Hornet and The Bionic Man comics!
Uncanny by Andy Diggle!
Click here to get in on the deals.