Snake? Snaaaaaaaaaaaake?! Oh wait, it's not Snake that's missing, it's Kojima. As in, his name (and studio) are now gone off the box art for Metal Gear Solid V.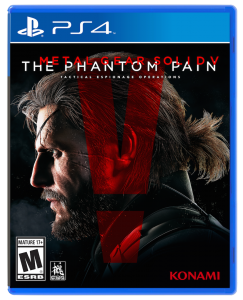 Interesting timing, since we just reported yesterday that it looked as though Kojima Productions had been officially disbanded, but here today comes the word that Konami has scrubbed the Kojima name off the box art for MGSV. And yes, that was kind of an easy thing to see coming, especially if that prior rumor had proved true, but it's somewhat startling nonetheless.
Kojima had, after all, been with Metal Gear as a series since he took over production of the NES original back in the late 80s. From there, he forged what would become one of the best-loved franchises in gaming as Snake and crew made the jump to the PSOne for what would become an all time classic. And now, with Metal Gear Solid V on the way, all that's come to an end.
After a falling out with publisher Konami, Kojima was seemingly terminated (nothing is official exactly, even now) and his Silent Hills project was cancelled. That same fate didn't befall MGSV of course, since that game was basically done, and his team at KP continued to work on the game and finish it up.
Now close to release though, and with the Japanese voice of Solid Snake saying that the studio is dead, it looks like that's indeed the case. And I think that's pretty safe to say since all mentions and logos for Kojima and Kojima Productions are gone from the packaging for Metal Gear Solid V.
The end of an era? Yeah, looks like. Both 'with' and 'without' imagery is below in the gallery so you can view the before and after.
Source: MCV