Rush Hero, the new game from Ketchapp is all fun, and slightly addicting.
On first opening the app i was immediately drawn to the simplicity of it. First time players are greeted to a simple tutorial which introduces the simple mechanics. You simple drag your finger across the screen to control the player. Dodging rocks to increase your score is delightfully simple.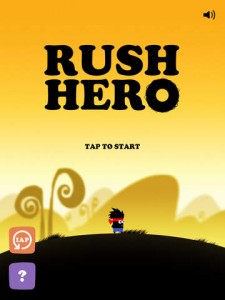 Rush hero reminded me of Pang  where you had to dodge balloons. This game is basically a mirror image of this. There is no problem with this. The game gets hectic as you move forward and as of writing this my high score is a measly 11.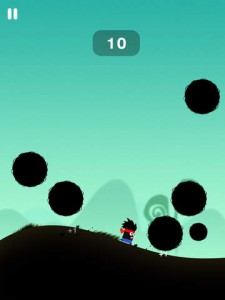 The sounds are simplistic and ever so soothing with birds chirping in the background, weather effects also play apart on the backing track, but have no effect on the game which is unfortunate, it would have been good to have some effect on the gameplay. The falling rocks and backgrounds are simply black which is a fool proof way of being able to keep the game really simple.
There is an option to remove adverts for 0.69p however i found this to be little problem as the adverts were too small to notice. When you die you are taken to an end game screen which is a little cluttered for my taste. Some buttons had me clicking them just to see what they do.
Is this game worth a purchase, short answer no. Is this game worth a free download, then yes definitely. For me there is simply not enough here to justify paying, unless you really want to help the developer out.   5/10