As Comic Con special events go, this one's pretty cool. Telltale Games will be putting on a special live performance of The Walking Dead this coming Saturday night in San Diego.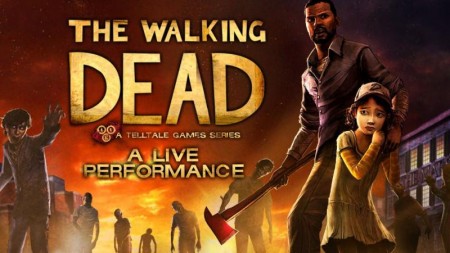 The cast of the original season of Telltale's The Walking Dead adventure game will be reprising their roles as the characters that you know and love (and saw brutally killed…) at Petco Park this weekend. Home of the Padres MLB team, Petco will showcase the actors as they play out a "series of scenes" from that ground-breaking, blockbuster first season.
So who'll be there? Here's the cast list:
Melissa Hutchison as Clementine
Dave Fennoy as Lee
Gavin Hammon as Kenny
Nicki Rapp as Lilly
Nicole Vigil as Carley
Adam Harrington as Andy St. John AND Larry (Terry McGovern, who voiced Larry in-game, could not make it out to San Diego, so Adam is doing double duty to fill in!)
Tickets (which you can buy here) are $30.00 USD, and get you access to not only the stage show later at night, but also Walker Stalker and Fan Fest from 11am-5pm (pacific), both of which also take place at the Park. Doors to the live performance though, will open up at 7:30pm (the show starts at 8:00pm) and you'll enter through the East Village entrance, which is also fondly known as 'the beach' entrance.
Not in SD this Saturday? You can still watch the festivities via the Twitch feed here.
Don't forget also that Walker Stalker Fan Fest will be hosting a panel with the cast from the game this Friday, the day before the live performance. You can catch more details on that right here, it starts at 11:30am pacific time.
Oh, and then there's the Skybound Entertainment Celebrates 5 Years panel, which is scheduled for later today. At that presentation, you'll pick up a few more rid bits about the upcoming The Walking Dead: Michonne mini-series from Telltale. It kicks off at 3:30pm pacific this afternoon.
Whew, that's a lot of zombies.