Sony wants to extend the retail potential of games through PlayStation Now. Jack Buser, Sony Computer Entertainment of America's senior director of PlayStation Now, anticipates PlayStation Now extending the lifecycle of games and providing opportunities for games long after their initial release.
PlayStation wants to highlight games when they release onto the subscription service, advertising games that might have released under the radar. The risk-free platform allows players to play games and explore lesser-known titles through the subscription. While most of the effort in advertisement and the initial return happens upon release of a game; however, PS Now is an opportunity to "re-release" and generate hype for a game that was released a couple years ago.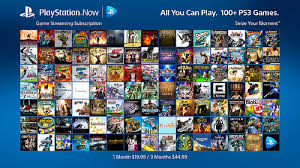 Buser boasts engagement metrics show 300% increase in user subscriptions from last year. The average user plays for 4 hours per week on the service, averaging 45 min per session, according to the director. Impressive numbers for a service currently flying under the industry's radar.
PlayStation devices aren't the only ones accessing the service. Sony and Samsung Smart TVs add to the device base. The different devices will allow Sony to gain a significant share of the cloud-gaming market.
The potential of this service is hard to measure or even predict in the ever evolving industry; however, Sony is fully committed to making this service as wonderful as possible. Are you subscribed to PlayStation Now? Will you get it? Let us know in the comments below or tweet at me! @lmrome3