The DST booth at SDCC will be open tonight, Preview Night at the Con, and will have panels setup for the weekend. Like to party? The company will be hosting an opening night shindig tomorrow.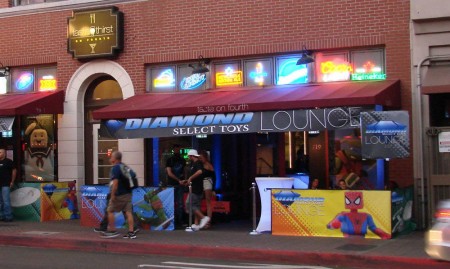 First, there's a lot to get excited about at the actual booth that DST has on the show floor. Not only will there be a ton of cool stuff to buy, but there'll be some neat stuff on display as well, and a whole new way to see it all thanks to the new setup that they have in store.
DST's booth is usually a little crowded, but this year they've got "larger display cases and a more navigable floor space" in an effort to make the experience a little more shopper-friendly. And speaking of, yes you'll be able to buy a bunch of exclusive and non-exclusive items at the booth. You'll even be able to order off the DST website for stuff that they didn't bring to SD, and get free shipping on all of it.
But what's also pretty awesome is that you'll be able to get a sneak peek at some upcoming stuff that'll be on display for the first time. There's plenty of that too.
And as usual you can expect to see a few panels throughout the show. Both presentations are set for this weekend, with one on Saturday and one on Sunday.
Minimates Mini-Figures: From Ant-Man to Zombies, Saturday, July 11, 1:30p.m. – 2:30p.m., Room 8 – Chuck Terceira (President, Diamond Select Toys), Jason Wires (Prototype Painter) and Brian Felgar (Prototype Painter and Customizer) discuss what's coming up for the toy line, including new series based on Marvel Comics, movies and animation, plus The Walking Dead, Gotham, Jay and Silent Bob, Back to the Future, Muppets and more! Zach Oat (Marketing Supervisor, DST) will moderate a Q&A, reveal new artwork, and award prizes!
Diamond Select Toys Round-Up, Sunday, July 12, 3:00p.m. – 4:00p.m., Room 24ABC – Chuck Terceira (President, Diamond Select Toys), Adam Van Wickler (Gentle Giant Studios) and Jason Wires (Prototype Painter) discuss DST's diverse product lines, from 7-inch Select action figures to electronic vehicles to role-play items to vinyl banks. Topics include Marvel Comics, The Walking Dead, PVZ, Jay and Silent Bob, Muppets, Ghostbusters, Gotham, DC Animated and more! Zach Oat (Marketing Supervisor, DST) will moderate a Q&A, reveal new products and award prizes!
There's also a special event planned for show-goers (and non-show-goers really) with an opening night party that's scheduled to kick off tomorrow night at 10pm at the DST Lounge, which is once again hosted by Taste and Thirst on Fourth, at 715 4th Avenue in San Diego.
The scene will be open all weekend long for pics and eating/drinking, but will open up to the public for the first time after a private event tomorrow night. And it will be coated with stuff from Kevin Smith's View Askewniverse too, including a life-sized backdrop of the Quick Stop from the Clerks films.
Speaking of, you can also nab a limited number of Mallrats promo Minimates at the DST booth (#2607) throughout the show. These'll be given out by booth attendants, who you can bug to find out the times of the giveaways.