The latest series of Witcher comics from Dark Horse starts towards it's bizarre conclusion.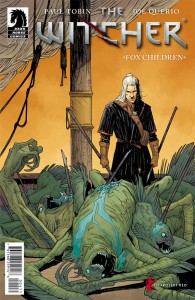 Wow is there a lot happening in this one. And I have to admit that as someone who's not really into The Witcher games (or novels) I did feel a little lost at times. I've read (and adored) Dark Horse's Witcher comics before though, so the groundwork of the universe that the character inhabits is fairly familiar.
For those uninitiated, The Witcher is Gerald of Rivia, and he's actually one of what used to be a force of 'Witchers', warriors trained as monster hunters and skilled int he magical arts. In this particular tale though, most of that training is for naught, as he's stuck on a boat with a gaggle of somewhat undesirable folk, one of whom has killed the child of a very angry Vulpess.
A creature that basically could be called a were-fox, the Vulpess has nothing but hatred for each and every member of the crew on the ship, which is perfectly understandable in the wake of the kidnapping and murder of her child. Oh, and she's also quite skilled in magic herself, as we find out in aplomb this issue.
As the doomed boat cruises the river, looking for means of escape, the Vulpess throws everything she has at it- including illusions meant to keep them on track, and creatures who she lords over with the power of her call. And all of this is fought against by Geralt and the crew, who are less than reliable.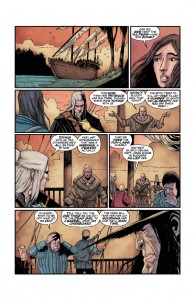 Writer Paul Tobin does an excellent job here with not only the characters and their dialog, but in keeping things balanced and moving. There's a ton of content here, with major story points being gone over, a fermenting anger among the crew of the ship, the beats laying siege to it, the Vulpess lingering in the shadows, ad Gerald himself, who's disgusted with the men at his side, but also sworn to protect them against the horrors they now face… well, most of them anyway.
Everything is nice and smooth too, with really nothing feeling rushed or glossed over. Even as someone who's not the most versed in Witcher lore, I was able to follow the story and get a good feel for the characters, monsters and such with ease.
Artist Joe Querio is likewise impressive. His work is cartoony, not overly realistic, but gets across a terrific range of emotion just the same. The look of shock on the face of the captain as he guides his ship through a magical veil, the shame across the visages of the crew and travelers aboard, and Geralt, who constantly wears a look of self-assuredness and relative calm in the face of some pretty terrible stuff.
Then there's his reveal of the Vulpess in all her glory, which is pretty shocking. That leads right into the final issue of the book by the way, which certainly looks to be picking things up even more.
Final Thoughts
I'm not all that surprised that I liked Fox Children a heck of a lot since the last Witcher book from Dark Horse was also a favorite of mine. The publisher seems to have a solid handle on the property and is just turning out some awesomely cool dark fantasy titles set in its world.
Especially now, with the final game in the series come and gone, there's no better time for fans to migrate over to the comics to read the further adventures of Geralt of Rivia. And as a nice bonus, these comics aren't just cash-ins on whet's become a popular series of games, they're genuinely well written and illustrated books that should make anybody who likes a fantasy tale nice and happy.