Death lives… again. Darksiders 2 has been brought back to life and will hit consoles this Winter. Oh, and publisher Nordic Games has sort of announced a sequel.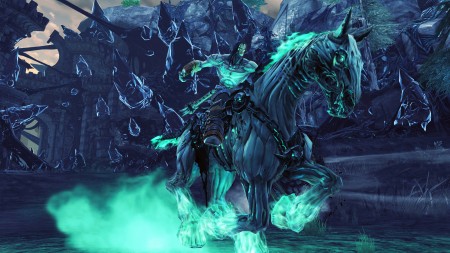 Now that's some pretty Death and Despair (that's his horse) right there. The rest of the game will follow suit too, with a graphics bump to 1080p as a native resolution, as well as "adjustments" to the balancing and loot systems.
And then there's the DLC. The Deathinitive Edition includes all previously released downloadable content for Darksiders 2, including:
Maker Armor Set
The Abyssal Forge
The Demon Lord Belial
Death Rides
Angel of Death
Deadly Despair
Shadow of Death
Mortis Pack
Rusanov's Axe
Van Der Schmash Hammer
Fletcher's Crow Hammer
Mace Maximus
Argul's Tomb
Woo that's a lotta stuff right there, and new developer Gunfire Games is looking to do this re-issue right. After taking over from now defunct IP holder THQ, Nordic Games has tasked Gunfire with bringing a little new life to Death, with this HD-ified version of the second game in the Darksiders series.
Reinhard Pollice, Business & Product Development Director at Nordic Games: "We took over the franchise roughly 2 years ago and thought about the next chapter for Darksiders ever since then. Naturally (and extremely excitedly!), there will be a large-scale project based on Darksiders, but for now it is very important for us to take care of the existing games and make those available to a broader audience. Bringing Darksiders 2 to current gen was a logical step for us and the team at Gunfire Games know their trade inside-out, so we easily and quickly had lots of ideas that we wanted to realise for this specific edition."

"It feels good to be working on Darksiders again, after a couple of years of hiatus", comments David Adams, founder and president of Gunfire Games. "This project is a great opportunity for us to pick up where we left off two years ago and dig deeper into the game, which is close to all our hearts. Bringing the definitive Darksiders 2 experience to life is something that we hope a lot of people will enjoy and look forward to."
Now, while this is super (especially for me since I loved the original, but never got into the sequel) you kind of have to get pumped about that statement from Pollice. "There will be a large-scale project based on Darksiders"? Yes please.
Both previous entries in the series from THQ were pretty highly regarded by the press and gamers alike, so it's kind of a no-brainer to work up something new. In the meantime though, the Deathinitive Edition here who'll hold fans over nicely.
Look for it on the PS4 and Xbox One this Winter.