We haven't seen Shadowman in a while in Valiant's universe, but his nemesis Master Darque is set to make life miserable for the whole of the company's heroes in this Summer's Book of Death.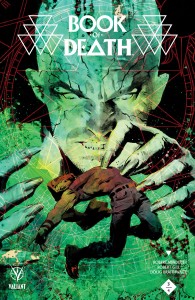 Touted for a while now as a major turning point for the Valiant U and one of the company's biggest crossover books since its rebirth, Book of Death tells the story of how each hero and villain in the VU died. And I mean past tense since the Book itself was a tale recorded and told by a Geomancer originally hailing from a future age, a dark age brought on by Darque himself, as revealed today by website io9.
Sent back in time at the end of The Valiant by The Eternal Warrior himself, it's now Gilad's duty to care for this young girl, who was in effect, the last Geomancer the Earth had produced. Here's the thing though, Darque has been biding his time after his defeat at the hands of Shadowman. He's been just waiting in the Deadside for the chance to strike, and he's coveted the power of the Geomancer for a long, long time.
"I can tell you that Darque has been waiting a very long time for this opportunity," writer Robert Venditti told io9. "He has found a way to access the power of the Geomancer, though only in a limited way, which is absolutely something that he'd like to change. Enter the Eternal Warrior and the new Geomancer, Tama – both of whom have committed themselves to the fight, even if they don't quite know who exactly they're fighting against."
Darque, who we've really only seen as a villain against Shadowman so far, will apparently unleashed in a major way against the stable of heroes that Valiant calls its own. It should be pretty interesting to see how these men and women stack up against a supernatural foe, as I don't think any of them have fought a character like Darque before.
"Master Darque is one of Valiant's most iconic characters, let alone villains, and this is the first time that we will see him unleashed in full on the heroes of the Valiant Universe," said Valiant CEO & Chief Creative Officer Dinesh Shamdasani. "Tama comes from a future where Darque has already succeeded and she knows the darkness that awaits humanity firsthand. But the revelation of Darque as the inciting force behind BOOK OF DEATH is only the first of many secrets that have yet to be revealed in this series… The first appearances of major new characters, defining moments for some of our most prominent heroes, and glimpses of the future that's coming… This is a series that readers will be returning to for years to come."
Book of Death #1 brings the havoc and hits the stands on July 15th from the team of Venditti and artists Robert Gill and Doug Braithwaite. You can also find the supplemental one-shot Book Of Death: The Fall Of Bloodshot #1 next month (on the 22nd). They'll be followed by BoD #2 and The Fall of Ninjak in August, and Book of Death #3 in September, before the whole thing wraps up (fittingly) in October.