Currently free on iOS, Blades of Brim is an endless runner that incorporates combat into a stagnant genre. You level up, gain power ups and get good gear as your speed ever increases, you know how an endless runner works.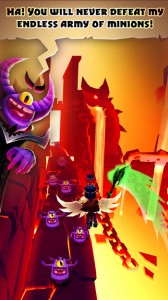 Upon opening the game the visuals immediately stood out. They are crisp, clear and colourful, everything you could want from a mobile game.  Menu music is pretty standard fantasy based.  The tutorial is in-depth and really teaches you how to play the game, sometimes multiple times so it really sinks in, but come on we all know how to control endless runners. It was nice to see the ability to jump on top of walls following a wall run as opposed to the standard '3 track' principle.
Attacking enemies is a nice feature and it easily done by either swiping left or right or swiping down to initiate a rolling attack. You collect coins and something I haven't seen before was checkpoints where you store the coins and loot you have collected mid run, I thought this was a nice feature.  Want to annoy your friends on Facebook? Don't worry that feature is in here.
Final Thoughts
Endless runners are everywhere at the moment, so to stand out you have to do something different.  This game doesn't revolutionize the genre; will it last for months, probably not. Is it enough to warrant a few plays, yes definitely I mean it's a free game so why not. Blades of Brim is available on iOS devices, so et downloading now 
Watch the trailer here.