Ready for Supremacy? Call of Duty: Advanced Warfare's latest downloadable content pack is available right now for Xbox gamers.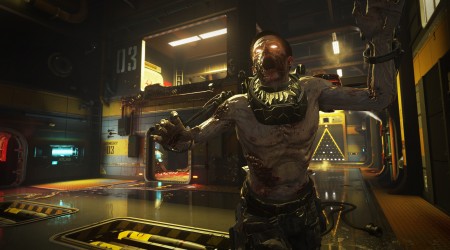 Four new multiplayers maps highlight this latest pack from Sledgehammer Games and Raven Software for Activision's latest Call of Duty blockbuster. In the maps, you'll head to a quartet of iconic places around the globe, including London and Red Square.
Parliament: Docked on the River Thames, this military cargo ship delivers a view of the London cityscape along with a fast-paced combat experience. Mixed site-lines provide opportunities for all styles of play to dominate this medium-sized map. Players can take control of the map-based scorestreak to unleash a barrage of missiles that annihilate enemies.
Kremlin: Gamers must prepare for intense combat in Red Square. Secure elevated positions to give the team a strategic advantage, or use exoskeleton capabilities to avoid being caught in the minefield that activates mid-match.
Compound: Players take combat preparation to the limit in an Atlas training facility hidden away in the Colorado wilderness, as they'll have to be quick on the trigger in this small, symmetrical map, which funnels high-speed combat through tight corners to the main tower structures.
Skyrise: Players deploy to an Atlas Skyscraper overlooking the Acropolis in Athens, Greece. Based on the fan-favorite Highrise, from Call of Duty®: Modern Warfare® 2 by Infinity Ward, this map brings new exoskeleton mechanics to the classic multiplayer layout. Gamers must dominate the power positions in the center of this small-to-medium sized map to control the key navigation points.
And of course, in addition to the new maps, you'll also get another dose of Call of Duty's famous zombies in the newest Exo Zombies experience, called Carrier. Oh, did I mention Bruce Campbell is in this one? No? Well he is, and he joins the already star-studded cast of John Malkovich, Bill Paxton, Rose McGowan, and Jon Bernthal.
Together they'll be battling zombies, but also enemy Atlas forces (as seen in the game's campaign mode), Sentinel Task Force support squads, and some new horrors dreamt up just for you. Isn't that special?
Supremacy is available right now on the Xbox One and 360 only, and will cost you $14.99 USD. As usual too, if you've got the Season Pass for the game, then you've already got access to this latest pack and you can download away.
As for the PlayStation family of consoles and the PC, those versions are on the way too, though there's no release date announced as of yet.