Project TriForce has a Sackboy that fans of Little Big Planet and The Order 1886 alike won't want to miss out on.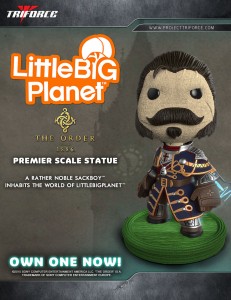 If you've ever played a version of Little Big Planet, then you know that one of the main aesthetic mechanics is that the little guy can swap costumes into a lot of different characters. Over the years, there's been everything from Marvel superheroes costumes to Sony suits from games like Killzone and, as we're talk9ing about here, The Order 1886.
As a game, The Order was slightly underwhelming. It got criticism for being too short and way to cinematic for some. Even if that might be true though, the designs for the game were phenomenal. Its cool mix of Victorian Steampunk and horrible monsters was on the mark in more ways than one.
And that brings us to this little guy. Clad in the costume (and mustache!) of The Order hero Sir Galahad, Sackboy looks almost noble… though with a level of charm that only a magically brought to life burlap sack could have.
A part of TriForce's Premier Scale Statue line, Sackboy/Galahad is 12″ high, and weighs a hefty 8 pounds. Not bad for a bag… must be the armor. He's also limited to just 500 pieces overall, and will be shipping out in quarter 3, 2016.
Even though that's a ways off, Project TriForce stuff tends to sell out right quick. So if you want one, you might want to plunk down a $50.00 USD deposit right now and save the hassle later. A feat that you can accomplish by clicking here to go to the main sales page for the piece.